5 Best First Class Experiences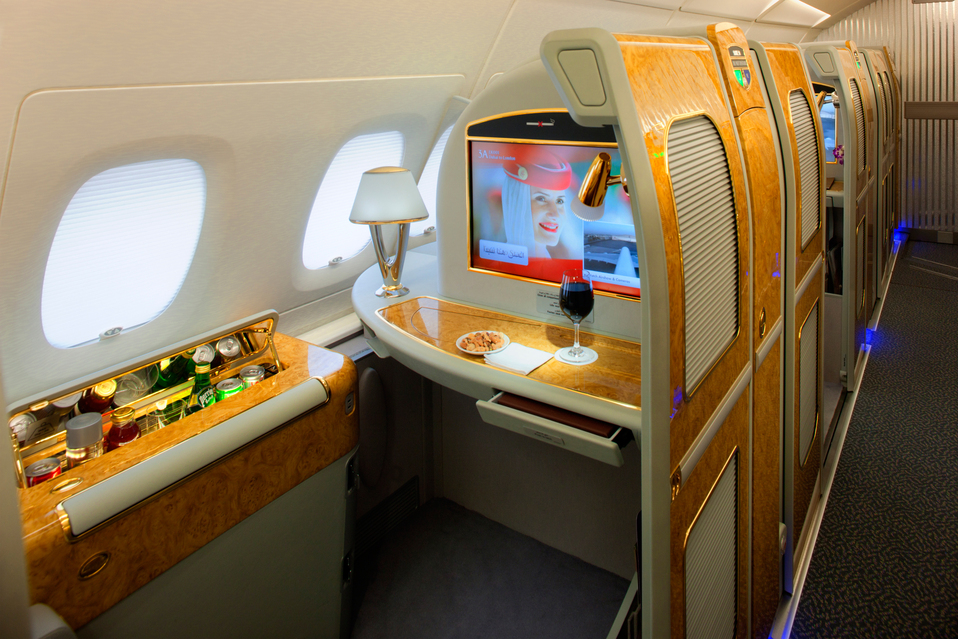 Many a hectic executive has found comfort and peace of mind in first class. While business class offers many of the amenities and much of the space seen in first class, a true first class experience is one of unequaled luxury and decadence. Airlines across the world are stepping up their first class air travel game, and the amenities and experience of international first class travel have been forever improved by the selection.
Top 5 First Class Air Travel Experiences:
1. Emirates First Class Suites
In terms of sheer style, the First Class Suites on Emirates Airlines are unparalleled. Gold and wood details are decidedly elegant, and the amenities are on par. Limousine service ensures your comfort through your destination. Complimentary pajamas for sleeping, an on-board bar, caviar and glasses of Dom Pérignon champagne add a total-body decadent experience to the journey.
2. Etihad Diamond First
Etihad Diamond First Class is lined with supple leather and dark wood interiors. Glasses of Mumm Cuvee R. Lalou sparkle and a personal chef ensures you are treated with only the finest foods. Limousine service is happily provided and each seat enjoys its own flat screen television and pajamas for a proper night's sleep.
3. Lufthansa First Class
Lufthansa's First Class boasts a sleek creme and gunmetal interior that feels simultaneously homey and modern. Spacious legroom and ottomans make for unbridled comfort. Limousine service allows for arriving already relaxed, and complimentary pajamas let you settle in for a good night's rest. Cold caviar and bubbling glasses of Krug Grand Cuvée add touches of refinement to your journey.
4. Singapore Suites
An unparalleled level of privacy, Singapore Suites are the First Class for those who prefer to keep to themselves. Dark mahogany and silver details feel cool and rich – an incredibly luxurious interior. Chilled classes of Dom Pérignon 2004 and all the amenities you could hope for give this airline's First Class experience an elegant, personal feel.
5. Qantas First Suites
Creme, wood, and dark leather interiors give off a luxurious, masculine feel to these suites. Plush ottomans, expansive legroom, and luxury pajamas let you relax fully after visiting the onboard bar. Qantas's complimentary limousine service means no headaches and travel concerns before and after your journey. Sparkling glasses of Taittinger Comtes champagne let you taste the luxury of the experience.
Give our travel insiders a call Today
Search for our best estimated quote or call for today's lowest price.