Cheap Business Class in Virgin?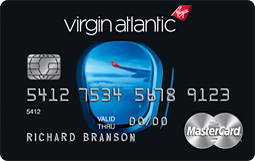 Move over American Express, Virgin Atlantic MasterCard has a kick-booty deal that will make cheap business class dreams a near reality. Usually a 20,000 mile sign-up bonus, for a very limited time you can earn 75,000 miles!
Yes, you read that correctly. There are number of steps to get the 75K, but so what! A Cheap Business Class Aficionado knows the value of 75K miles.
The catch is that you have to spend $12,000 in the first six months to get 50K, you'll get 20,000 after your first retail purchase, and 5,000 when you add an authorized user. But that's not all. You'll even earn put 15K on your anniversary.
With the Virgin Atlantic World Elite MasterCard, you'll earn 3 miles per $1 spent directly on Virgin Atlantic purchases and 1.5 miles per $1 spent on all other purchases.
If you've been debating which card to go for first, check this one out. The offer lasts until September 7th, so don't procrastinate.
Bon Voyage, Cheap Business Class Aficionados!
Give our travel insiders a call Today
Search for our best estimated quote or call for today's lowest price.