DoveTail Business Class Seating: Optimized Space, Luxurious Amenities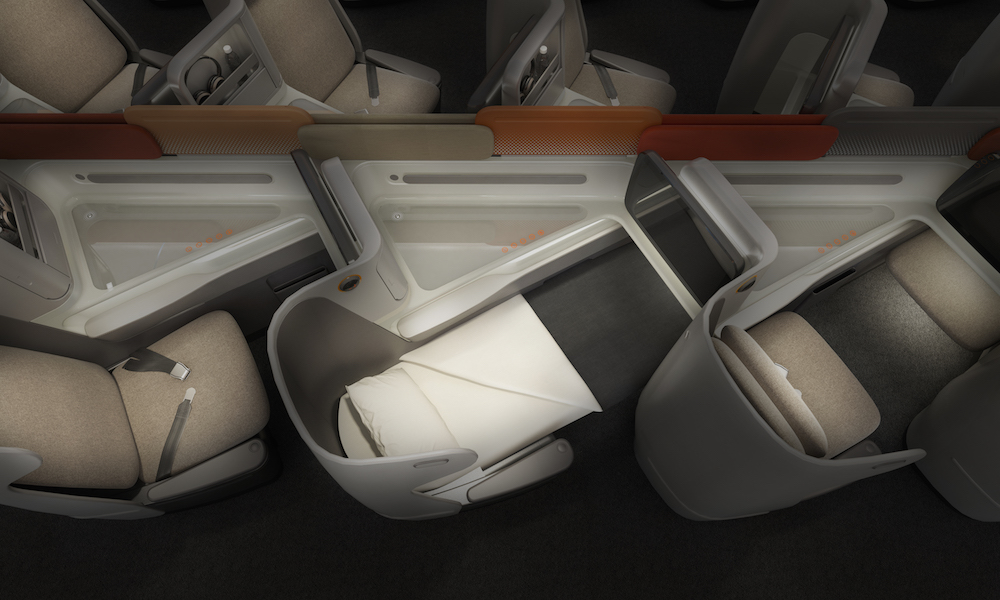 A partnership between London's JPA Design and Japan's Jamco (an interior components manufacturer) has led to a new breakthrough in design for business class seating. After three years of intensive design and testing, the DoveTail Business class seats have been revealed, and they may be the ticket to a more comfortable, luxurious, and profitable (for the airline) flying experience. The trick is a design that allows for optimized space utilization and optional privacy for all travelers in Business class.
Each seat has access to an aisle, as well as ergonomic seating. Sliding privacy screens between seats give you the option of chatting with travel companions or escaping into your own world. Each passenger gets a whopping 21.5″ seat width with 43″ pitch and a 21″ ottoman to prop their feet up on. Lay-flat seats transition into beds that stretch 78″. 18.5″ individual screens feature HDMI and USB ports as charging stations for electronics. Further, and best for airlines, the design allows for more seating in Business class all the while improving space and experience for Business class travelers.
Business class flyers can expect to see DoveTail units in airplanes soon as Jamco has stated they are already "in advanced discussions with undisclosed airlines."
Give our travel insiders a call Today
Search for our best estimated quote or call for today's lowest price.