Etihad Airways Unveils A380 First Class Cabins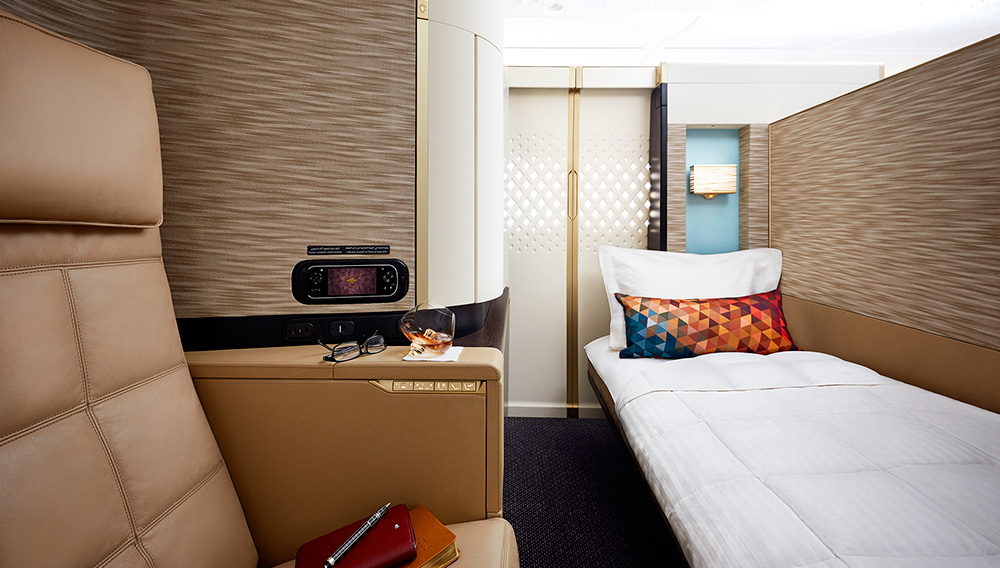 Ladies and gentlemen, it's time to meet the newest feat of luxury from the Emirates. Etihad Airways has unveiled its new Residence and First Apartment cabins on their new Airbus A380 airplane. Working with Chapman Freeborn, a specialist in global aircraft-charters, the new First Apartment and Residence are unquestionably the most luxurious first class options on the market today.
The Residence offers travelers their own 125-square-foot, three-room suite. Poltrona Frau leather sofas in the living room and a 32-inch flat-screen television provide total entertainment immersion. A double bed in Egyptian-cotton sheets fill the bedroom. The bathroom has a full shower and vanity. The whole suite comes with a private chef for a custom dinner and a personal butler for cognac delivery and bed turndown service.
The First Apartments are for total luxury for a solo flight. Access to the First Class bathroom comes complete with shower option. A 24-inch flat-screen television offers 750 hours of entertainment while you rest on your Poltrona Frau leather armchair and ottoman. The ottoman folds out into a lush 81-inch bed for bedtime.
Give our travel insiders a call Today
Search for our best estimated quote or call for today's lowest price.