First Class Cabins Come Equipped With A Seat and Flat Bed Combo
When traveling First Class, one has become accustomed to seats that recline all the way back into a flat bed. This is a standard practice in most First Class and Business seats on all the major airlines. Recently, our Travel Insiders came across (and fortunately experienced) First Class cabins that came equipped with a seat AND a flat bed right next to it. Yes, you literally get two for the price of one. A separate seat and a full flat bed right next to it. This was truly an unmatched experience even for the well-traveled staff at CheapBIZClass.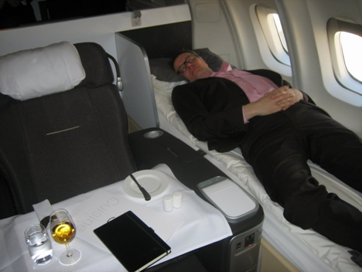 Image courtesy
Sitting on a seat (even those that recline into a full bed) can be a physically daunting experience. Our bodies were not built to sit stationary on a single object for prolonged hours. The B747-400 airplanes were built with one thing in mind: complete comfort. If you get bored (or tired) of sitting on the same seat, you can easily lie down and take a quick nap on your flat bed. If you decide that your body has received enough sleep, you can get back in your separate seat and pick up on reading or eat a quick snack. This may seem like a simple luxury, but when flying for over 8 hours on a cross Atlantic or cross Pacific flight, this could make all the difference. But be warned, these planes will be decommissioned out of service beginning in 2015. The Travel Insiders at CheapBIZClass received this information from the staff of a well-known airline during one of our company sponsored trips. Hurry before this seat and flat bed combination are no longer available. The below airlines are currently offering these one of a kind seats in First Class:
Lufthansa
KLM
China Airlines
Qantas
Before you book your next flight, check with your Travel Insider and confirm your airline still comes equipped with a separate seat and flat bed. And remember, you heard about this first from the Travel Insiders at CheapBIZClass. Stay tuned and check back often for the latest travel related offers, specials and promotions. And if you require assistance booking your next business or first class flight, please do not hesitate to call CheapBIZClass for all your travel related needs at 1-888-496-0747. Our Travel Insiders are standing by to assist you.
Give our travel insiders a call Today
Search for our best estimated quote or call for today's lowest price.