Great App for Business Class Travelers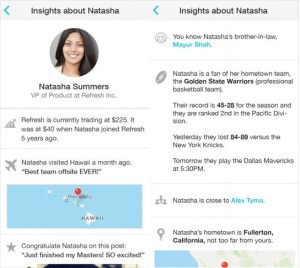 When traveling on business and preparing for meetings with people you've never met, the new app named REFRESH can help you quickly look like a person who has done their homework.
Refresh collects data from the internet and creates a composite of information on an individual. That information may be enough to give you an advantage when it comes to impressing or reassuring your new contacts.
It's also a great way to start conversations without discomfort, or worry about saying the wrong thing. Refresh works by searching through many different websites, such as Facebook, LinkedIn and Google, collecting short bits of information. The app also watches your calendar for upcoming meetings and sends notifications regarding that person's most current social updates and information available on the internet.
This handy app lets you come prepared to nearly any event and best of all, it's free.
Bon Voyage, Cheap Business Class Friends!
Give our travel insiders a call Today
Search for our best estimated quote or call for today's lowest price.