Great Frequent Flyer Program for Cheap Business Class Seats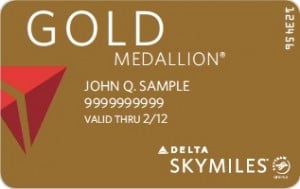 The airlines are certainly vying for your business. Here's another very nice card offer from American Express for Delta Sky-Miles.
It's the Gold Delta SkyMiles credit card, and all you Cheap Business Class Aficionados will want to check it out.
Big Flyer Miles—50,000 to be exact once you spend $1,000 greenbacks in the first 3 months. We discussed super sneaky ways to do that yesterday, so if you're wondering how, scroll down.
There are a few other perks, my Cheap Business Class Aficionado, like no annual fee the first year, and even then it's only $95 clams. And you get to check your first bag in for free. This card also gives you priority boarding, 2x the miles for Delta purchases, and a few other travel-related bonuses.
Bon Voyage, Cheap Business Class Aficionado!
Give our travel insiders a call Today
Search for our best estimated quote or call for today's lowest price.