International Star Alliance and United Share Points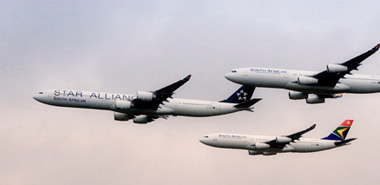 Star Alliance and United Airlines work together in a miles program. This means that any points you accrue from either airline can work together for your cheap business class point collection
As the year winds down, something you might want to look into are United cards. If you were approved for every United Card that can earn you miles, you would be raking in the points. 290,000 miles, to be exact.
Maybe you don't need all the cards, or even want them, but if you're bound and determined to get those cheap business class points quickly, and your credit allows, this is definitely the way to go.
Here are a few of the cards you should look at; United MileagePlus Explorer (personal and business), Chase Sapphire Preferred Visa/Ink Plus/Ink Bold/ Freedom/Sapphire Visa/Ink Classic/Ink Cash, United Club (personal and business), and Starwood Preferred Guest AMEX (personal and business).
United has managed to keep fees lower than some other airlines. Certainly worth checking out.
Bon Voyage!
Give our travel insiders a call Today
Search for our best estimated quote or call for today's lowest price.