Is Business Class Really Worth It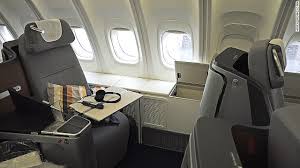 Air travel is a darn good deal, but the question is whether business class is worth the cost? Ten years ago, about 10% of your airline fee went toward fuel, today, it's more like 35%. Dropping oil prices will likely not affect ticket prices either.
The cost of air travel actually decreased by nearly 50% between 1980 and 2012, and prices today are still competitive.
What You Get
Business class is not about status, although it can feel that way. Business class is about arriving at your destination not feeling like a zombie. This is important when you're actually traveling for business and have to work the next day. Business class offers—top shelf food, flowing champagne, comfortable seating, sound/video system, and first-class service. And all of this, and special check-in services as well. 
Your Costs
When it comes to comparing economy and business, the difference can be surprisingly large at first glance, A round-trip ticket in premium economy from LAX to Frankfurt runs about $1,000, while a basic business runs about $3,100. Of course, this one of the reasons point collecting has become big business. With a distance of about 5,777 miles from LAX to Frankfurt, business class actually costs about .56 cents a mile.
What The Airline Pays
According to Lufthansa, it costs about 4-5% of the airline's revenue to upgrade business class seats, and they expect to pay this until at least 2025. Even though economy brings in about 80% of the revenue, it's business class that brings in the profit. About eighty percent of business class is profit, so it's worth investing to keep competitive and desirable.
Is Business Class Worth It?
Ultimately, it comes down to the quality of the journey. Shorter trips may not support the cost of business travel, but you'll likely feel the difference with on a long-haul European journey.
Give our travel insiders a call Today
Search for our best estimated quote or call for today's lowest price.