Most Amazing Fire Works in the World
New Year's Eve is an event so anticipated that literally millions of people participate in some way. In New York and Berlin, a million people tune in, or turn out, to welcome in the new year. And hundreds of thousands do the same in Paris, London, New Orleans, Rio, and many other cities, but it's Sydney, Australia the celebration factor eclipses both New York and Berlin combined.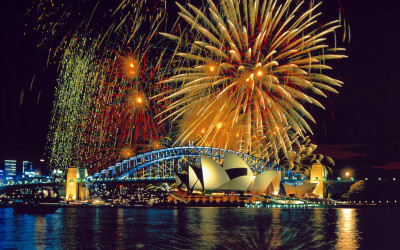 With 2.3 million viewers, Sydney can boast that it is the most celebrated New Year's Eve celebration in the world.
The planning involved resembles preparations for Olympic games. Beginning several years ahead, a team is hired to creatively design the fireworks. Nothing is left to chance. This year's them is 'INSPIRE', and they hope all viewers will take a few seconds to tweet messages about the inspiration they find in Sydney.
With 100,000 individual pyrotechnic effects, 45 technicians, 11,000 shells, 25,000 comets, and more than 60 kilometers of wires that link the fireworks to computers for synchronization necessity with music, it's not surprising that Sydney attracts millions of fans.
The price tag is hefty at $7.2 million (AU$), but what's a few mil for once-a-year inspiration on this level? And finally, the piece de resistance is the 'secret bridge' effect.
The secret is not revealed until midnight, but it's 12 stories high and represents the theme. This year's events will be filmed by drones, including a 360degree view, and available to watch on youtube.
If you weren't able to make the celebration this year, plan ahead and experience magic in 2015 in person.
Give our travel insiders a call Today
Search for our best estimated quote or call for today's lowest price.