Most Memorable Firework Displays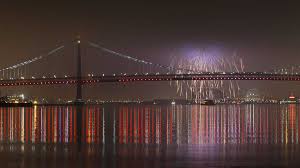 From San Francisco to Sydney, the firework choices are something to behold.
While each city has something uniquely special to offer, some cities are naturally create an experience not available anywhere else.
For instance, the bridge that connects Vancouver, Washington to Portland, Oregon is a prime location for viewing fireworks. It wasn't built for this purpose, but while driving over the bridge one year I found myself the only vehicle on the bridge as fireworks erupted over the water. I stopped and watched.
Another year, in New Jersey, I stood on the beach, staring into the foggy darkness when suddenly fireworks illuminated the mist and the sky. This was the most ethereal and unforgettable firework display I've ever seen.
One year, in Lake Tahoe, bundled in cold-weather gear, I watched the fireworks fly high into the dark skies, and reflect off the lake.
Firework displays are a favorite, and even after the immediate awe of the experience is gone, the memory of the event lives on.
Happy New Year.
Give our travel insiders a call Today
Search for our best estimated quote or call for today's lowest price.