New Digs on Horizon for Cheap Business Class Seats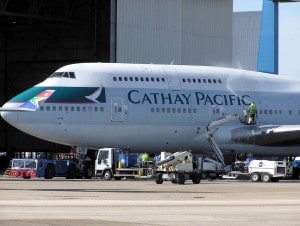 If you're planning on traveling internationally, you might want to make sure you line up points for a cheap business class seat on some of the new Cathay Pacific airplanes.
Cathay Pacific has $27 billion burning a hole in their pockets, so they've decided to spend it on 90 planes. Based on their profit reports for this year of nearly $45 million, more than twice the expected profit amount, the big airline expects to spend the 27 billion over the course of the next 10 years.
With the first arrivals coming in February of 2016, passengers will begin to see newer, and more modern amenities. No specifics on amenities for business or coach class, but we're sure our Cheap Business Class Aficionados will want to go for a spin.
Cathay claims that they will have 48, of the 90, in air by 2020.
Bon Voyage, Business Class Aficionados! And enjoy the new ride.
Give our travel insiders a call Today
Search for our best estimated quote or call for today's lowest price.