Non-Stop Flight from L.A. to London by Virgin Atlantic
Have you ever travelled for business from California to Europe? Then you know how long (and tedious) a transatlantic flight can be. Not only do you have to cross the entire continental USA, but you also have to cross the Atlantic Ocean to get to Europe. If you you're travelling from Los Angeles to London, this could be more than a whopping 16 hour flight (depending on the number of stops along the way). That's more than half a day being stuck on an airplane and in-between airports! The sheer thought of such a journey can make even the most experienced traveler think twice about embarking on such a trip. But not to worry, there is some hope. To help alleviate some of the pains of long distance travel, Virgin Atlantic is offering a non-stop flight from Los Angeles (LAX) to London Heathrow (LHR) with a reasonable 10-11 hour flight time journey. The non-stop flight saves you ample time, which is normally wasted by connecting at various airports and can sometimes even increase the price of the ticket (because of the various taxes airlines have to pay to airports for fueling and landing).
Aside from being a non-stop flight (and saving you a great deal of inconvenience), Virgin Atlantic also offers a whole breath of unparalleled service in its "Upper Class" cabin. Even before you embark on your journey, passengers are spoiled in the airport business class lounge (which Virgin Atlantic currently shares with Air New Zealand). The lounge serves food, snacks and drinks, so that you are well refreshed before boarding the plane.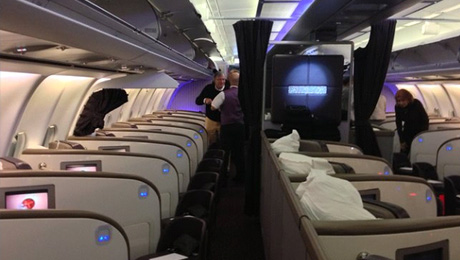 Image Courtey
Once on-board, you will quickly notice the spacious Upper Class cabin (see image above), which is designed to provide optimal space and privacy to all passengers. Once you're settled into your comfy seat, the flight attendants will serve you with refreshments and drinks to get you going. The food service deserves an article all on its own. All food portions are generously provided in real plates and the flight attendants even lay out proper table cloth, so it's like fine dining in the sky! Coupled with a selection of the latest movies, you will actually enjoy your 11 hour journey to London (rather than counting the number of hours left before landing). When it's time to rest, the seats themselves fold out in length to form a comfortable bed for one. The seat-bed will allow any business class passenger to catch up on much needed sleep and rest. And unlike economy class seats, you will get more than 30 minutes of sleep because you can actually lie flat and not have to sleep in a 90 degree position. The seats (or seat/beds) provide a whole new experience in comfort. Many reviews by passengers swear on its mattress like feel, unlike traditional airlines seats, which feel like airlines seats.
Still not sold on these seats? Watch the video below posted by an actual passenger on a LAX to LHR flight. Once you are ready to book a seat on Virgin Atlantic's Upper Class, call the Travel Insiders at CheapBIZClass. Our experts will make certain you find the best price for your business class ticket (even if its last minute). Call us today at 1-888-496-0747.
Give our travel insiders a call Today
Search for our best estimated quote or call for today's lowest price.