That Won't Fly In Business Class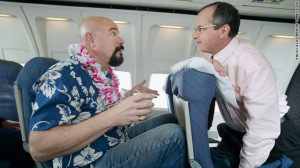 A recent incident on United Airlines has created a stir. Lets preface this by saying that this type of thing doesn't happen to Cheap Business Class Aficionados who routinely travel business class seats.
You may remember the times in coach when the seat in front of you gently reclined toward you, adding to the horrible sense of claustrophobia. Some sly company created a little argument provoking gadget called a Knee Guard.
Once installed, it prevents the seat from reclining.
A male passenger recently installed it on the seat in front of him during a United flight and when the woman in the seat in front of him wanted to recline, she couldn't. He refused to remove them. Even when the flight attendant asked him to remove the gadget, he refused.
Well, the lady got so angry, and probably irritated that the flight attendant wouldn't handle the problem, she threw a glass of water on the man.
The plane made a stop to let both passengers off. Sadly, the pit stop affected everybody, even our Business Class Aficionados.
These types of gadgets can have no positive effect and should be banned by all airlines.
In the meantime, however, bon voyage, Cheap Business Class Aficionados!
Give our travel insiders a call Today
Search for our best estimated quote or call for today's lowest price.