The Most Romantic Ski Destination In Europe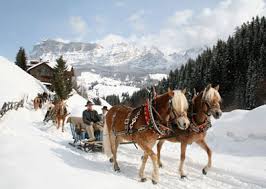 Hidden Valley, Cortina, Italy
Winter vacation is for lovers, or at least romantics. Everyone has a sweet ski-time romance to remind them of the love of snow and the love of love, but in Cortina, Italy, the sport of lovers takes our breath away.
Hidden Valley, a truly special ski resort in Cortina, Italy, is a short twenty-minute bus trip from the city center. This historic italian villa rests in the heart of the massive and elegant dolomites. And modern man isn't the only human romantic enough to love the region; in 1987, evidence of human activity dating back to the 6th millennium B.C., was discovered.
The sprawling runs of Hidden Valley offer an amazing 2,750 meter descents that take you past frozen waterfalls, stunning visages of the Dolomitic Alps and King-of-the-Mountain views of Cortina.
Finally, you'll enjoy a few minutes of relaxation as the horse-powered lift delivers you for another run.
Give our travel insiders a call Today
Search for our best estimated quote or call for today's lowest price.