Top 5 Airplane Meals
For those of you who travel often, airline food can be an experience all in its own right. Whether the experience is positive or negative depends on the class you're flying in and the airlines you choose. And it goes without saying, business class or first class seats always get better food catering than any other seat class on the plane. Keeping that in mind, let's explore the top 5 airlines in terms of food quality for those travelling first class. The reviews are based on the quality, freshness and of course, taste of the meals on-board.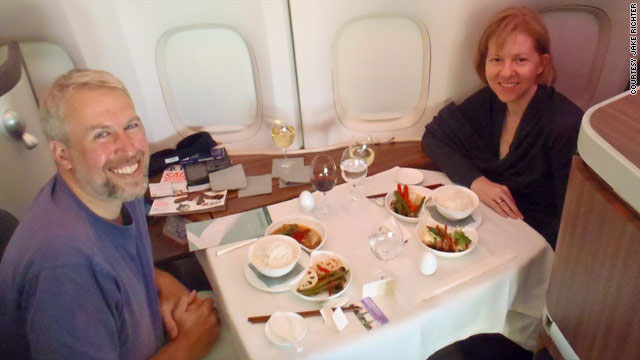 Image Courtesy
Thai Airlines (No. 5)
Thai food (along with sushi) is all the crave these days. This is because Thai food has an extensive variety of dishes ranging from fish (lobster and crab) to meats (chicken, beef and even lamb). Typical dishes o nboard Thai Airways include lobster thermidor or a rack of lamb to name a few. And to spice things up further, Thai Airlines constantly updates its menu. This keeps things fresh for passengers.
Qantas Airways (No. 4)
Even before your meal is served, Qantas provides first class passengers with Caviar. How's that for an appetizer? What follows next is an 8 course meal extravaganza, which is filled with shitake wontons, grilled lamb cutlets in olive sauce and quince tarts served with spicy syrup and double cream. It will make any passenger's mouth water.
Singapore Airlines (No. 3)
Upon boarding the place, passengers are offered a glass of Dom Perignon or Kug Champagne. The first class meals can include Korean style eel fillet or Wagyu beef served in Givenchy sauce. You are also provided with a large variety of some of the best gourmet coffees from around the world. Your taste buds will be in for quite a ride.
Cathay Pacific Airways (No. 2)
What separates Cathay Pacific from the crowd is that a lot of the meals are actually prepared on the plane. The airline has an on-board rice cooker, skillets and toasters. This ensures that all meals are prepared fresh (something even the best airlines cannot match). And for those that like to snack, passengers are free to help themselves to the cabin's fridge, which comes equipped with sandwiches and other great snacks.
Gulf Air (No. 1)
To everyone's surprise, Gulf Air was picked by critics as having the best airplane meals. Why you wonder? This airline is the only plane in the sky that has an actual chef on-board! That's right. All meals are freshly prepared on-board by a professional chef. This beats pre-cooked meals or food prepared by the flight crew. Passengers can now enjoy freshly made honey-glazed quail on a sweet potato cake or Arabic spiced veal ragout. It's like eating in a fancy restaurant, but thousands of feet up in the sky.
We hope that this extensive list provides travelers with enough information on great airplane food. Please note, we constantly update our reviews based on consumer and professional feedback, so please check this section often for the latest articles.
And if you would like to save thousands on your next business class or first class ticket, get in touch with the Travel Insiders at CheapBIZClass. We guarantee the best prices on all the major airlines. Call us today at 1-888-496-0747 and book your next business or first class flight.
Give our travel insiders a call Today
Search for our best estimated quote or call for today's lowest price.