TOP TEN: Travel Tips & Tricks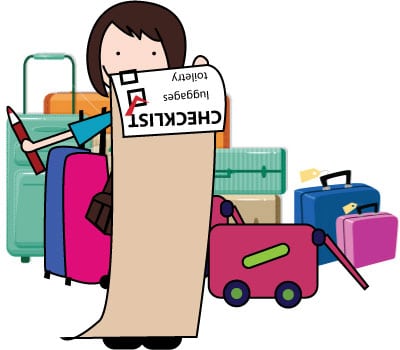 If you're a seasoned traveler, you could probably write this blog yourself. But most travel wisdom, unfortunately, is learned by trial and error. So, if you're going to be traveling this summer, take a few tips from us and you'll probably be glad you did.
1. Bring a collapsable water bottle. If you are traveling to a location that has clean drinking water, bring a collapsable water bottle to fill and repack when necessary. In Rome, they even have water spouts for drinking all over the city, even in the middle of the Colosseum. Hey, if Rick Steves says they are okay to drink out of, they must be okay!
2. Bring clothes that don't require ironing. If you need an iron to wear a garment, it's probably not going to get worn. Either you won't have access to iron, or you won't want to take the energy and effort to do so. So save yourself some valuable suitcase space and bring something you can grab and put on.
3. Bring a hat. Or two. A hat can save you from bad hair days as well as the sun and they are pretty easy to pack. Depending on where you are going, you may want to get a knit hat for cold temps and a brimmed hat for warmer ones.
4. Take Pictures AND Notes. You're planning to take lots of pictures? Great. But consider also keeping a travelog. Chances are, even if you're good about taking pictures, you may not remember just what you took a picture of. Even though the experience was memorable, it doesn't mean it will be remembered ten or twenty years from now.
5. SNACKS. Do your travel companions a favor and make sure no one has any "hanger" attacks. Nothing can ruin a day of fun like a low blood sugar attack when there is no food for hours. Pack granola/protein bars or fruit to make sure you are able to stay fueled in case you have to wait a while to eat. Seriously.
6. That thing you forgot? Check with the hotel before you run to the drugstore. It's likely that you will forget something. But it's okay because it's also likely that your hotel has a toothbrush/razor/toothpaste/sewing kit, etc. for you to have. FOR FREE.
7. SUNSCREEN. No matter what skin type you have, traveling WILL expose you to the elements like never before. Apply it well and apply it often. You will truly be glad you made sure to protect your skin– especially pesky places like the top of your head!
8. Don't check everything. When you're flying, make sure to keep a few emergency items with you at all times. A pair of underwear, toothbrush, an extra set of clothes, and any prescription meds you may not be able to go long without. The chances of ALL your luggage arriving when you do are not very good.
9. Bring TP. If you care about using toilet paper, consider bringing some of your own. Not everyone feels as passionately as we do about providing toilet paper. It's a cruel, cruel thing to stumble upon, believe me.
10. Bring dryer sheets. Not for doing laundry, necessarily, but to remove static cling from your clothes. There's also the added bonus of dryer sheets making a stale and sweaty suitcase smell bearable.
What is a travel tip or trick you've learned over the years?
This list was adapted from The Everywhereist.
Give our travel insiders a call Today
Search for our best estimated quote or call for today's lowest price.