Upgrades to Business Class Near Perfection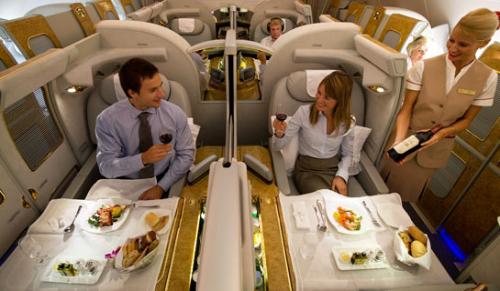 Business class on United Arab Emirates' ultra-long haul flights is getting an addition.
A new turndown service that includes a plush comforter and full size pillow for your mattress, and slippers and cotton sleepwear to top off an exception experience. The pillow has been redesigned to convert from a regular pillow to a neck-supporting pillow to allow for even greater comfort.
They have also upgraded their 'All Day' and 'Dine Anytime' dinnerware. With new serving trays, china dishes, cutlery and stemmed glasses, your dining experience is bound to feel sophisticated and high-class.
And finally, for those who don't sleep talk, a reversible eye-mask is provided with messages on each side of the mask; 'Wake me for Meals' or 'Do not disturb.'
It seems Emirates has thought of everything to make your business class experience nearly perfect.
Bon Voyage, Cheap Business Class Friends!
Give our travel insiders a call Today
Search for our best estimated quote or call for today's lowest price.