Luxury Travel Spotlight: Emirates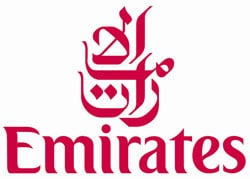 With more than 3,000 flights per week to more than 130 destinations throughout the globe, Emirates is one of the world's premier airlines, and has developed a global reputation for singular passenger service. Based in Dubai, and a subsidiary of The Emirates Group, Emirates is the preferred carrier for passengers flying throughout the Middle East, while its modern fleet and attention to customer service make it a popular choice for first class and business class fliers worldwide.
Because Emirates offers such a wealth of amenities to the luxury traveler, it's a good idea to know some of what the airline has to offer, so that you can take full advantage of what Emirates prides itself in calling "The Emirates Experience."
Emirates: From Dubai to a World of Possibilities
Emirates is famous for having perhaps the largest selection of non-stop international routes to its hub in Dubai, a rapidly growing, cosmopolitan city that has emerged as one of the world's business hotspots. Indeed, if you have business in Dubai or are simply interested in vacationing there, Emirates is likely your best choice for luxury travel. However, with routes throughout six continents, Emirates can take you nearly anywhere you need. From New York City to Cape Town South Africa you can experience Emirates' reputation for luxury around the world.
Redefining Luxury Travel
Even non-stop international flights can take 15 hours or more, making your in-air experience a critical part of your trip. That's why Emirates has built its reputation as a standard bearer in luxury travel.
That attention to quality, personalized service begins before you ever reach the airport, with complimentary chauffeured transportation for its first class and business class travelers available in more than 55 cities. Once at the airport, you can enjoy the wealth of amenities available at exclusive Emirates Lounges. Depending on the location, Emirates Lounges offer first class and business travelers, as well as Emirates Skywards Gold and Platinum members, everything from full bar service and haute cuisine to the latest news and entertainment on its large, plasma screen televisions. The Dubai lounges specifically are the airline's showplaces, pampering guests with spa service, fresh juice bars, and the ability to purchase vintage wines from the airline's own on-site wine cellar.
Once aboard your flight, you'll likely be amazed by the amenities available to you. First class passengers flying the airline's modern A380s will be treated to their own private suites. Combining the luxury of classic train travel with the modern speed of the jet age, each private suite features a personal mini-bar, ambient lighting, a vanity and wardrobe, as well as a sliding door for privacy. The A380 luxury continues outside your suite as well, with two shower spas aboard each jet, allowing you to freshen up in an elegant, relaxing setting. This level of luxury makes travel aboard an Emirates A380 one of the world's singular airline experiences.
However, no matter where your first class or business class seat is located within Emirates' fleet, you can rest assured that you'll receive the trademark service that has made the airline a top choice among travelers throughout the world. Luxury-travel dining features gourmet regional cuisine ranging from stir-fried lobster in black bean sauce to glazed duck breast. Between meals, you can unwind and take high tea in the onboard, first-class lounge, relax in the airlines' luxurious flat-bed seats, and take in more than 1,500 channels of in-air video, audio, and gaming entertainment options. In short, when you fly first class or business class with Emirates, you'll arrive at your destination after experiencing some of the finest service air travel has to offer.
Emirates Air Rewards Program: Loyalty Has its Advantages
Like most airlines, Emirates offers a travel-rewards program with an array of options. Skyward miles can be redeemed for a variety of rewards, including flights and special offers from the airline's partners. Meanwhile, tier miles, which are collected only through flying with Emirates, help you advance to higher membership levels, earning greater benefits in the rewards program.
Emirates Check-in and Baggage: The Nitty Gritty of Airline Travel
Emirates offers online check-in services from a variety of its departure cities across the globe. Online check-in, which saves valuable time at the airport, is available beginning 24 hours before scheduled departure, and closes 90 minutes before takeoff. You should note, however, that online check-in contains some limitations. For example, children traveling alone cannot use online check-in, and the service is not available from all cities.
Baggage allowances vary based on your departure location and whether your flight includes travel aboard a non-Emirates airline. For travel routes outside North or South America, business class fliers may check up to 40 kg of luggage, while first-class travelers can check up to 50 kg. Travel originating within the United States is calculated by both weight and piece.
Ready to Fly? Book with CheapBIZClass to Experience Emirates Luxury at a Fraction of the Cost
Simply put, while Emirates provides signature luxury in international first class and business class flights, CheapBIZClass is your solution for experiencing that level of luxury at breathtaking discounts. CheapBIZClass offers 30 percent off of any online first class or business class flights with Emirates and guarantees to match any price you'll find on those tickets elsewhere. Moreover, when you book with us at CheapBIZClass, you earn Emirates Skywards miles that can be applied to everything from future trips to rewards from select Emirates partners.
You receive all of this, plus CheapBIZClass's unrivaled customer service from Travel Insiders who are both experts in luxury travel and ensure you will receive the highest quality care. Whether you need last-minute ticketing changes or have questions on routes, our travel insiders are here for you 24 hours a day. CheapBIZClass is the best luxury travel partner for your luxury Emirates flight. Are you ready to fly? Call us at 888-496-0747 to book your flight!
Fly Emirates With CheapBIZClass and
Get 30 percent off Emirates online tickets.
Know you're receiving the best rate with our price-match guarantee.
Earn exclusive Emirates Skywards Rewards.
Receive both Emirates Luxury and CheapBIZClass Travel Insiders' signature service.
Emirates and CheapBIZClass: A Partnership of Luxury and Value Throughout the World. Call Today.
Give our travel insiders a call Today
Search for our best estimated quote or call for today's lowest price.