Luxury Travel Spotlight: SkyTeam
A Global Partnership in Luxury Travel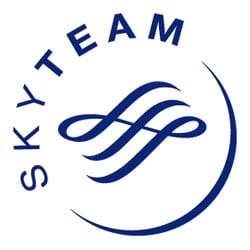 Air travel has changed dramatically in the past two decades. In order to better serve travelers, airlines entered into a variety of partnerships to provide the both the route selection and convenience that customers demand today. SkyTeam, an alliance of 19 airlines based among five continents, is one of the largest such partnerships, with a goal of better serving each member carrier's travelers. With its expansive fleet, if you are a frequent first class or business class traveler, chances are good that you're aboard a SkyTeam-member flight.
Size Matters in Service
One of the greatest benefits of flying aboard a SkyTeam member flight is the sheer number of their routes. The 19 SkyTeam members operate more than 15,000 daily flights between more than 1,000 destinations. Thus, regardless of whether you want to travel to Moscow or Manila, you can rest assured a SkyTeam member can take you there. Additionally, the more than 35 hubs within the partnership help coordinate transfers, for both passengers and baggage alike, quickly and efficiently.
SkyTeam travelers also enjoy most of the benefits and amenities of other partners in the SkyTeam alliance. That means international first class and business class travelers, as well as SkyTeam Elite and SkyTeam Plus members, can relax in any of more than 530 SkyTeam lounges across the globe. Moreover, SkyTeam Elite and Elite Plus members receive additional perks, ranging from extra baggage allowances to elite qualification miles in the alliance's rewards program on any member airline.
SkyTeam Members
SkyTeam's expansive network includes major international carriers around the world. Within SkyTeam, however, Delta Airlines and KLM-AirFrance are two of the largest, most closely aligned carriers, and airlines you should consider in booking your premium tickets.
Delta Airlines
With seven hubs throughout the United States and one in Tokyo, Delta Airlines is one of SkyTeam's largest members, offering more than 5,000 flights daily to six continents. Indeed, the airline's hub in Atlanta helps make Atlanta-Hartsfield the world's busiest airport by passenger traffic.
As large as it is, Delta Airlines is well-known for its premium service. First class and business class passengers on select flights enjoy the creations of world-renowned chefs, as well as additional touches ranging from in-flight WiFi to outlets that will charge your electronic devices. Additionally, flat-bed seating is available on some flights, allowing you to get the rest you need during international or overnight travel. These perks, combined with expedited check-in, boarding, and all the benefits of flying a SkyTeam partner, make Delta a strong choice for luxury or business travel.
AirFrance-KLM
AirFrance-KLM is a combination of Royal Dutch Airlines, better known by its initials KLM, and AirFrance, one of the founding members of the SkyTeam Alliance. Prior to their merger, the two airlines were major international carriers. Subsequent to their partnership, they continue to operate independent fleets from their respective hubs in Amsterdam and Paris' Charles DeGualle Airport. While they operate around the globe, the two partners are perhaps most renowned for their flights from the U.S. and throughout Europe.
Indeed, AirFrance-KLM takes pride in its European origins, as well as the attention to service it provides to business class and first class passengers. Beyond the additional legroom you would expect, select premium class seats feature privacy screens, providing you a greater sense of personal space. Additionally, the airline partners provide amenities ranging from supersize, seat-back television screens to auto-massage seats and well-stocked libraries in the in-flight lounges. If you are looking for premium service and modern amenities combined with an Old World touch, booking a flight with Air France or KLM is an ideal choice.
Flying with SkyTeam? Book with CheapBIZClass for the Best Tickets, at the Greatest Discount.
The reach of SkyTeam's carrier fleet is unparalleled, and the breadth of its luxury choices is enormous. At CheapBIZ Class, we can help you take advantage of the wealth of benefits that a SkyTeam partnership has to offer, all at major discounts. Whether you want to fly Delta, AirFrance, KLM, or another SkyTeam member, our Travel Insiders will find the best premium seat and the best itinerary, all at the best price. And if problems arise, we can leverage SkyTeam's alliance with our own travel expertise to ensure you can change flights and travel dates, worry-free. Let CheapBIZClass find you the premium seat you're looking for now. Call us at 888-496-0747 to book your flight!
Give our travel insiders a call Today
Search for our best estimated quote or call for today's lowest price.