If the quality of service and in-flight amenities are important to you, premium air travel is well worth the investment. Thus booking the best business class seats is esteemed because it saves you the time and inconveniences that usually come with air travel while enabling you to maintain what can be a demanding personal schedule.
For many professionals and families, luxury travel is not about the opulence but rather the ability to retain optimum conditions for work, rest and productivity while on the move both domestically and across international borders. Superior and select forms of air travel typically come in two well-known packages, first-class, and business class. Here, we explore all you need to know about the best business class flights of 2020, key considerations you should be aware of, and how to get all of them at discounted prices.
Key Considerations for Business Class Travel
The experienced business class traveler will tell you that not all business class flights or airline packages are the same. The differences in convenience, quality, pricing, and loyalty benefits offered vary widely. Look for the following when selecting from the best business class flights:
1. Best business class airlines always prioritize your ability to get proper rest in flight.
2. The provision of more room, less seating density, and greater aisle access make business class an altogether more peaceful experience.
3. Customers of all kinds will appreciate outstanding customer service, delicious food, great entertainment, and a well equipped in-flight kit. A good airline will know that!
4. A sedate alternative to the manic departure lounge. Airport business lounge typically comes with dedicated check-in, priority boarding, and a more generous baggage allowance.
The Very Best Business Class Seats are Well Worth the Expense
Seating and comfort is often a priority if you are purchasing business class airline tickets. This is especially true if you are undertaking a transcontinental or long-haul international flight where you will be seated for a prolonged time. Sitting in awkward and cramped seating is not only uncomfortable, making it difficult to rest, but also runs the risk of health problems such as deep vein thrombosis and pulmonary embolism. Comfortable seating that provides the opportunity to mobilize readily is essential.
Where space is at a premium pay for business class carriers, which offer the amplest seating arrangements. There are a variety of seating arrangements which include:
Extra legroom
Cradle seating
Fully flatbeds
Knowing the type of seating to expect will help you plan your journey better or select an airline that offers the most comfortable experience, especially on major long-haul routes.
Which Airline has the Best Business Class Flight?
Though still distinct from first class, the best airlines for business class offer near unrivaled levels of luxury and comfort. Benefits and packages do vary between airlines, so it is well worth knowing which airlines have the most benefits. SKYTRAX World Airline Awards reviewed the best airlines for business class in 2019. Awards are given on the basis of one of the world's most extensive surveys with over 21 million respondents. Here are our top picks based on customer service, benefits, and overall experience.
Qatar Airways' Q-Suites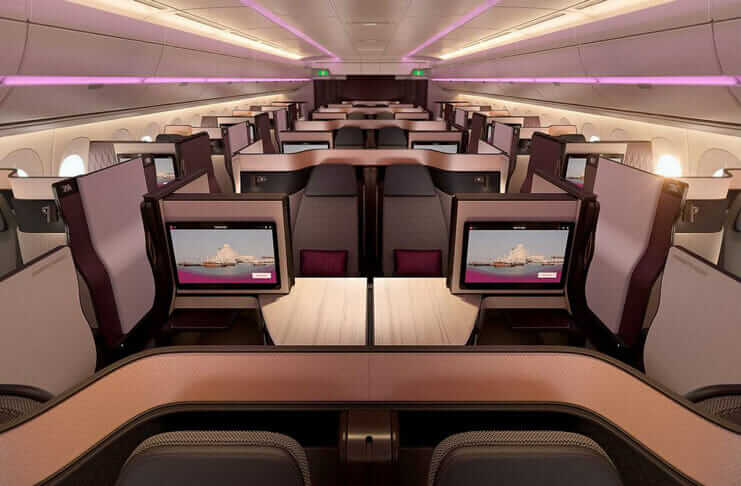 Qatar Airways continues to set new standards in business class luxury with the world's first retractable double beds, which they are retrofitting on select Boeing 777s. These business class suites serve up the height of opulence with The 4-way mid-aisle seating forming a dynamic, live, work, or sleep space depending on your needs. Privacy screens can be raised or dropped at the touch of a button, and the generous displays and networking can be connected to your laptop or phone for an in-flight business presentation for your traveling companions. Entertainment and connectivity are easy with on-board WiFi and cellular connectivity. Alongside this innovative cabin, Qatar Airways also fine cuisine, amenity kits, and their signature outstanding service. It is no surprise that year on year, they are winning awards for the best business class seats.
Key points
an excellent choice for group travel
spacious cabins
tech-ready with great WiFi and screen connectivity
Singapore Airlines' A380 Business class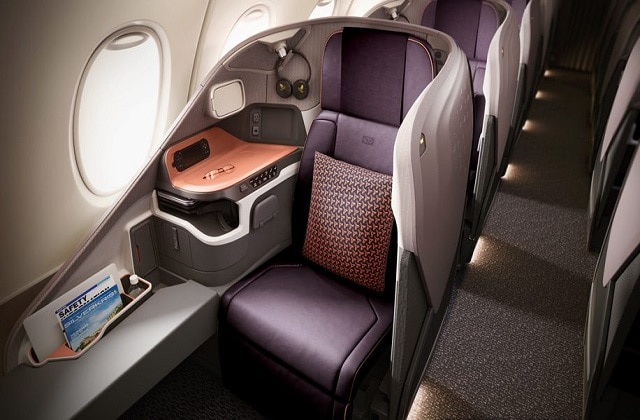 Singapore Airlinesis highly rated globally as having some of the best business class seats on intercontinental flights. The new A380 business class by Singapore airlines has the entire industry buzzing and has landed them top ratings, and awards. Being located in the Far East and known for its long-haul itineraries, this airline has focused on providing everything its clientele need for high-quality sleep. No expense had been spared in creating sumptuous Poltrona Frau leather-upholstered seating that folds into a comfortable bed. At 6 foot 6 inches in length fully extended, this is one of the largest seats available. The finish in their business class is exceptional with the cushioned headboard and fine linens fit for a refreshing sleep. Center seating can also create a comfortable double bed that is great for lounging or settling children. Besides, you will enjoy generous stowage, fine toiletries from Penhaligons and a personalizable, pre-booked menu with outstanding beverages.
Key points
large seating
sumptuous upholstery
luxury amenity kit
Japan Airlines Apex Suite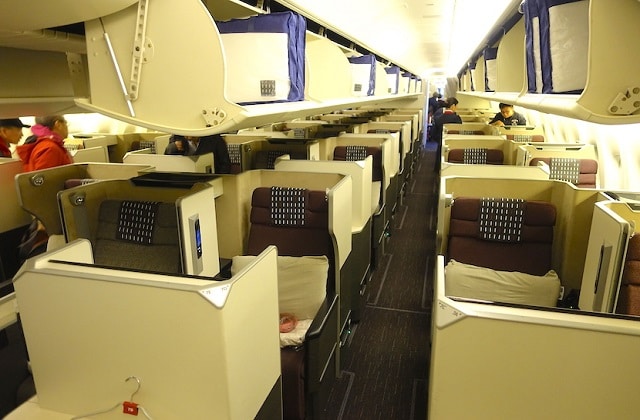 Japan Airlines 2-2-2 configuration for business class seating is smart and popular with their frequent flyers. This bento box style arrangement produces well-contained, individual cabins with lots of space and privacy. The seating folds down for sleeping with mattress pads provided for added comfort. Alongside their ample amenities kit, Japan Airlines also supplies a cardigan for additional warmth. Sumptuous in-flight menus showcase the very best of Japanese cuisine, which is loved the world over and the elegant amenity kit boasts a sharp contemporary design. Business Class affords access to some of the world's best airport lounges with their showering facilities provided for full refreshment.
Key points
considered seating configuration
complementary cardigan
delicious Japanese menu
In addition here are some examples of business class seats and provision on some of the world's leading airlines:
Etihad Airways
In keeping with the penchant of the Gulf nations for no expense spared aesthetics and service, Etihad Airways has established a sound reputation for business class travel that feels like First. Their Dreamliner Business Studio cabin is fully equipped for the authentic business class traveler with purposed amenities, storage, and a generous fold-flat bed. Seating has an innovative dovetail arrangement to ensure that you are comfortably seated and have maximum access to the aisle. Sumptuously upholstered leather seating affords either ample legroom or a flat, well-furnished bed.
If staying put is not for you, Etihad Airways have produced a signature lounge, reminiscent of a boutique hotel or private members club.
Also, business class passengers can avail themselves of fine cuisine on demand, executive transfers in the UAE and dedicated boarding with an outstanding home lounge equipped with food showers and WiFi.
Key points
luxury inclusive transfers in the UAE
breakout in-flight lounge
great aisle access
American Airlines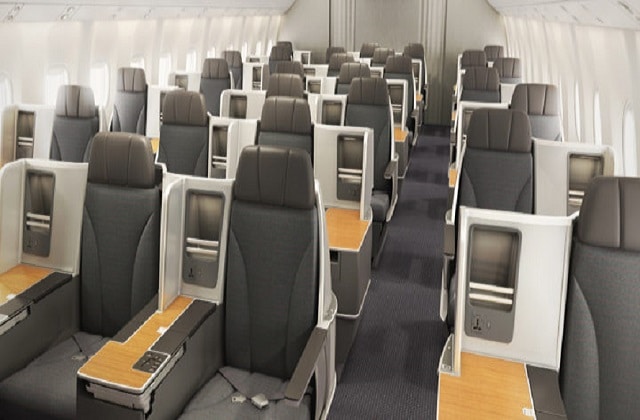 Booking a seat with American Airlines is an opportunity to enjoy signature business class hospitality. The package offers priority service benefits, with business class passengers being first to be served for check-in, security and retrieval of luggage at their destination. American Airlines also offers a Flagship Lounge with excellent food and beverages, comfortable seating and showers all delivered by attentive and personable staff. On-board, stay connected on select flights with inclusive WiFI, 1-2-1 reverse herringbone seating arrangement, and executive chef menu that can be pre-ordered. Space is ample for personal stowage, legroom, and getting sleep with the fold-down seating and beddings supplied. The toiletry bags are rather basic, but AA makes up for this with a complimentary supply of noise-canceling headphones.
Key points
signature lounges with priority check-in and security
in-flight WiFi inclusive
pre-ordered chef's menu
Virgin Atlantic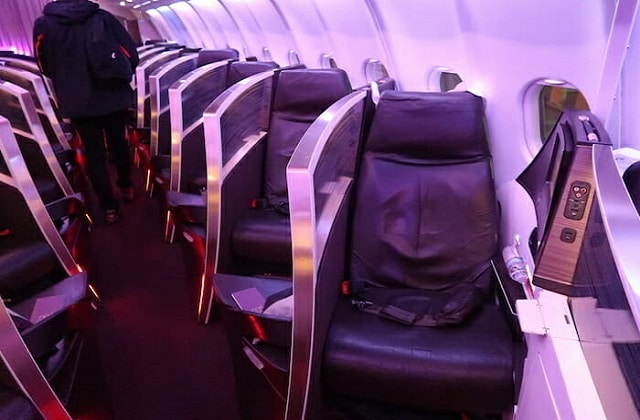 The Virgin brand has always been a trailblazer and its business class offering on Virgin Atlantic flights is no different. This airline works hard to excel in service and its Upper Class (an amalgamation of Business and first class) is fully equipped with every comfort for traveling in style. Virgin provides a signature experience with dedicated transfers, opulent lounges and clubhouses and a swift transfer to your flight. On-board the comfortable seating provides generous legroom as well as one of the longest fold flatbeds in the industry. Sleep should be no problem with a complementary sleepsuit and premium toiletry kit supplied.
Key points
signature pajamas
generous legroom
great lounge and transfers
United Airlines Polaris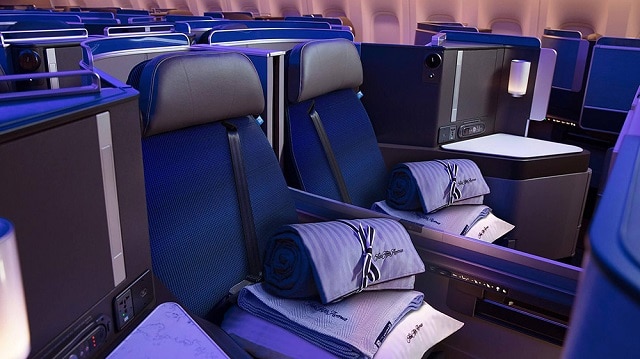 United Airlines excels in a classic corporate-chic business class provision. While not having the opulence of other world-renowned business class services, the Polaris package is discrete, considered and of high quality throughout. Their focus on quality and service is reflected in the small details like the Saks Fifth Avenue designed beddings and amenities which include pajamas, and luxe toiletries from Sunday Riley. Add to that a menu of fresh seasonal world cuisine and it is clear that this is a determined effort to provide service with distinction. In revamping their business class, United Airlines has focused on its passengers getting great sleep on international flights. From blue mood lighting to a privacy divider that can section off your seat at a push of a button. Seats feature a 1-2-1 configuration with decent legroom and fold flat for sleeping though storage is limited. You can also get a mattress topper on request for added comfort.
Key points
mood lighting to aid sleep
custom-designed amenities and beddings
privacy screening
Virgin Australia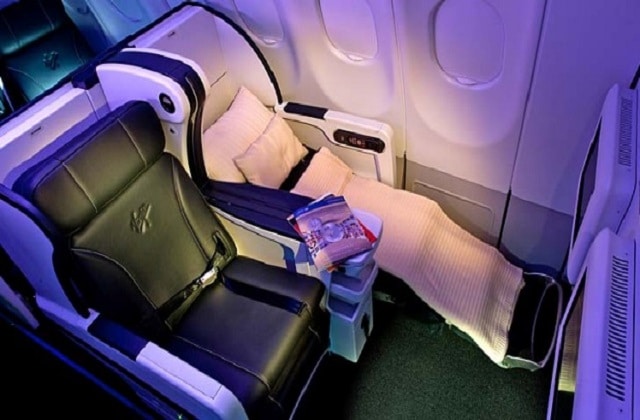 Business Class or 'The Business' as it is nicknamed is executed with flair. The Virgin Australia Reverse herringbone seat is a 'cocoon' or pod-like suite which is stylish and well-equipped with an over 6ft fold-flat bed. Pillows, blankets, and signature pajamas are thrown in to ensure that any sleep is quality sleep! A versatile seating area means that your time can be productive with desk space and storage, or entertaining, with high-quality screens and the latest film and music to enjoy. On-demand, breakfast and express dining are available, meaning you never need to get hungry. An upper deck bar area is also available as a great breakout space, serving a variety of alcoholic and non-alcoholic beverages.
Key points
great atmosphere
on-demand dining
glamourous fittings
Lufthansa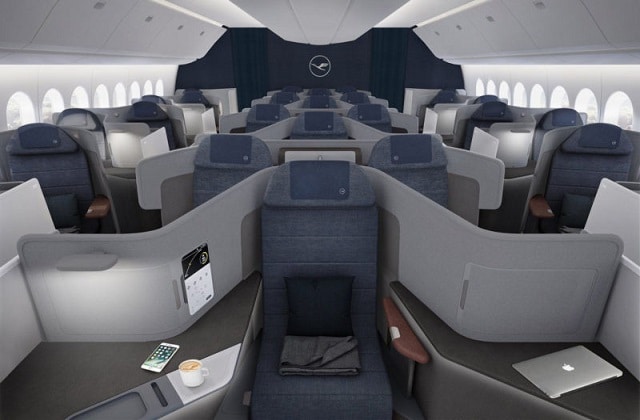 Lufthansa leaves the way with outstanding European service and class. Their efficient package includes seating that folds flat with comfortable beddings, delicious food and drink, and on-board duty-free sales.
Key points
popular in-air duty-free shopping
light, spacious atmosphere
signature customer service
Delta One Suite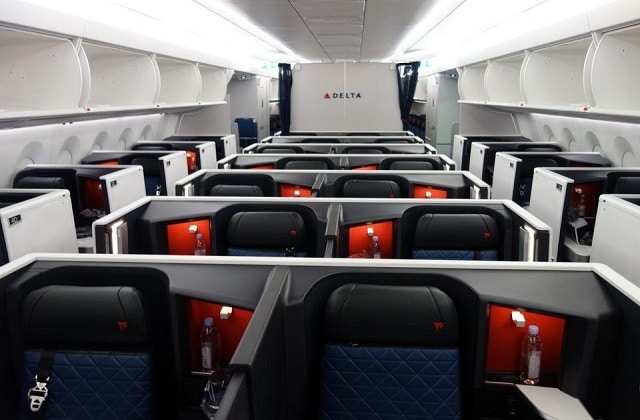 Delta's business class offering, Delta One, is competitive with the first class cabins of some of its competitors. It offers exceptional comfort and privacy with screening that completely separates you from the aisle. The seating flattens out into a comfortable bed with generous beddings supplied. Besides, passengers can refresh themselves with a well-stocked amenities bag featuring exclusive products, including eye masks, socks lotions, and lip balm. The cuisine is fresh, seasonal and taken from a menu designed by leading chefs.
Key points
considered menu
good privacy screening
comfortable bed
ANA Business Class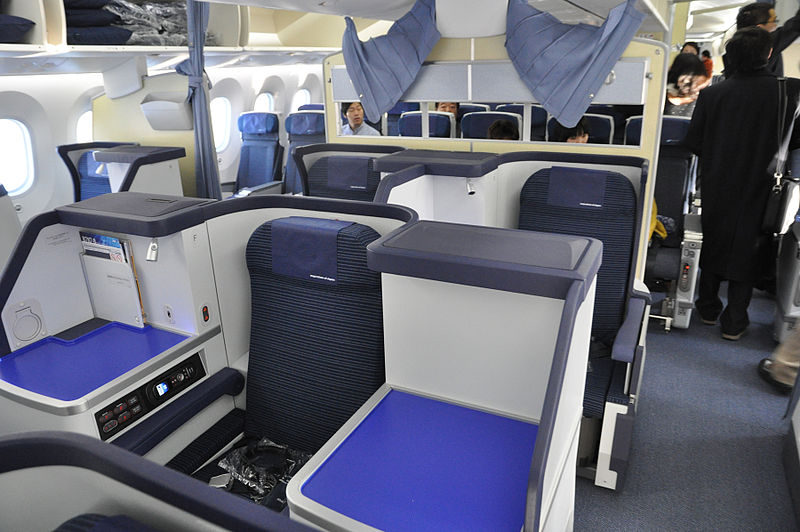 International business class from ANA boasts wide seats with aisle access which folds down for a great flight's sleep. A staggered seating arrangement affords privacy and the ability to work or sleep in peace. The ultra-wide sofa seating folds down into a generous bed with functional screening which almost feels room like.
Key points
looks like First
wide sofa seating
outstanding tech integration
Eva Air Business Class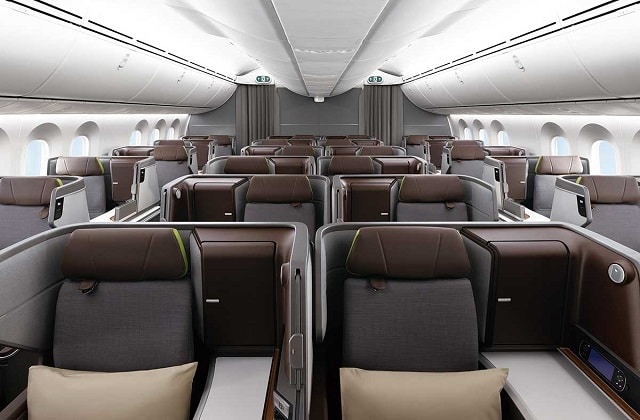 Eva Air's award-winning business class boasts all the luxuries you would expect including fine wines and cuisine, Salvatore Ferragamo amenities and Jason Wu pajamas. This sets the standard for their Royal Laurel Class in-flight experience. For Eva Air, sleep is expertise and the company invested in a sleek and stylish cabin with privacy screens and fold-down beds.
Key points
designer amenities
attention to privacy
award-winning wines
If you need assistance in securing the best business class flights Cheap Biz Class is on hand to help.
Did you know that you can enjoy world-class business class travel at low prices from all these airlines? Here at Cheap Biz Class we work with industry insiders to secure your business class flights with the world's leading airlines with outstanding discounts of up to 50%! We provide whole of market access to the best business class seats at the lowest prices available.
Rounding up
There has never been a better time to appreciate and enjoy the benefits of the aviation industry's business class seats and with evermore competitive pricing and discounted business class travel available from a variety of carriers, and it is well worth doing your research to land an outstanding deal. It is clear from the varied offerings that are available that business class is not a uniform level of service, but where you gain on time-saving, comfort and a great experience, business class flights are well worth the cost. Use business-class for work or family travel or for added luxury on that once in a lifetime trip. The improvements in pricing and benefits are making it a better value than ever!Booking your business class flights with our helpful team means that we will ensure that you get the very best package, inclusive of transfers and other benefits where available. Contact our knowledgable and experienced travel insiders who are available to help online or by phone. With us, you always get the most affordable offer.