All Business Class Tickets
I couldn't believe how much money I saved.
We work with all major airlines including:
"How to Get Cheap Business Class Tickets in 2020 – Insider Secrets that Most People Won't Reveal"
Getting 56% off on your business class seat has never been easier.
Traveling in an economic class translates to having limited food and drinks, a shared TV screen and shared access to the toilet. Also, you need to queue yourself with 250 other passengers and handle limited hand baggage space along with noisy neighbors and no sleep. It is much  better to find business class airfares, right? But now you probably ask yourself the questions "how to get cheap business class tickets" with such discounts?
Imagine a scenario: You are flying in an economy class from Houston to Sydney which is about 8,500 miles and takes around 17 hours and 30 minutes.
You are seated next to a stranger who is continuously snoring and drooling on your shoulder, and have an important business meeting to attend and are in urgent need of a shower. No wonder why you look tired, your eyes are puffy and you need to be presentable within the next two hours.
Well, yes, if you often fly in economic class and have business meetings to attend, this is a common sight.
However, in spite of this, most of us go through this horror of the economy class, just because traveling in business class sounds too pricey.
But is it seriously the case? What if we say that you can actually manage to get a cheap business class ticket?
No, we are not kidding! Read on to know how to find cheap business class flights.
But before that, let's have a clear picture of the luxury you get to experience in business class.
Reasons to Fly Business Class Cheap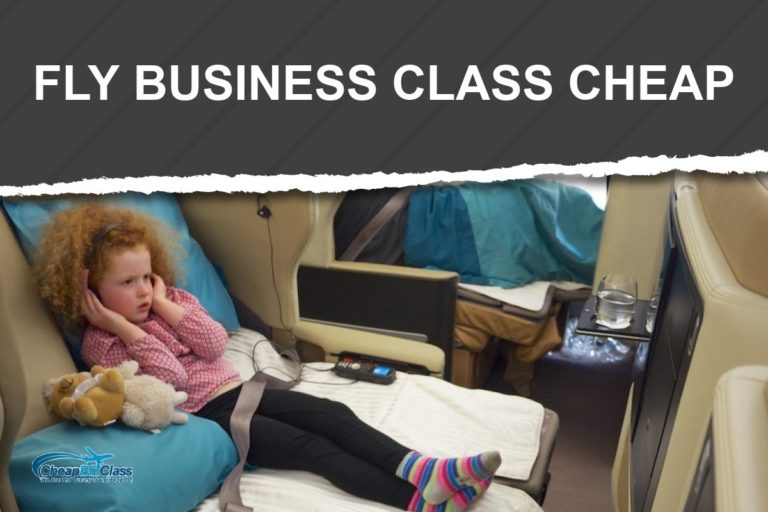 Business class was initially intended to be an intermediate level of service between economy and first class. However, today, a lot of airlines offer discounted business class seats as their highest level of service and have eliminated first class seating.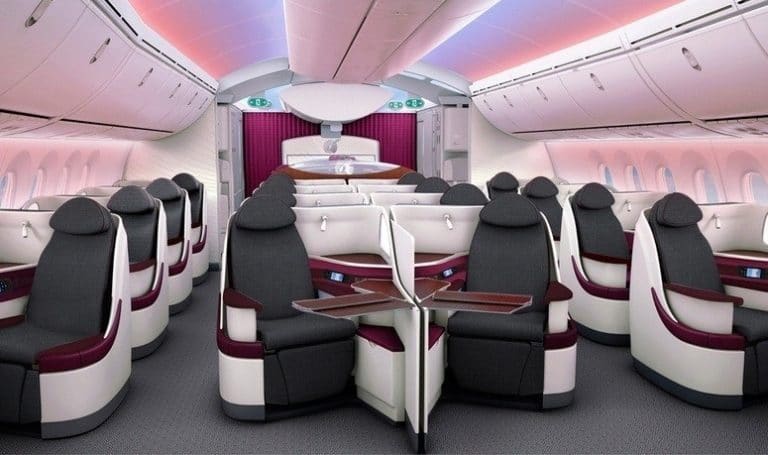 The business class cabin is made for professional people in mind. It provides enough space to let you work and includes Wi-Fi, a power outlet to plug in a laptop and other electronic devices, a reading lamp, noise-canceling headphones and a storage space for your documents or laptop.
Basically, it lets you work even when you are flying without interrupting you in any way!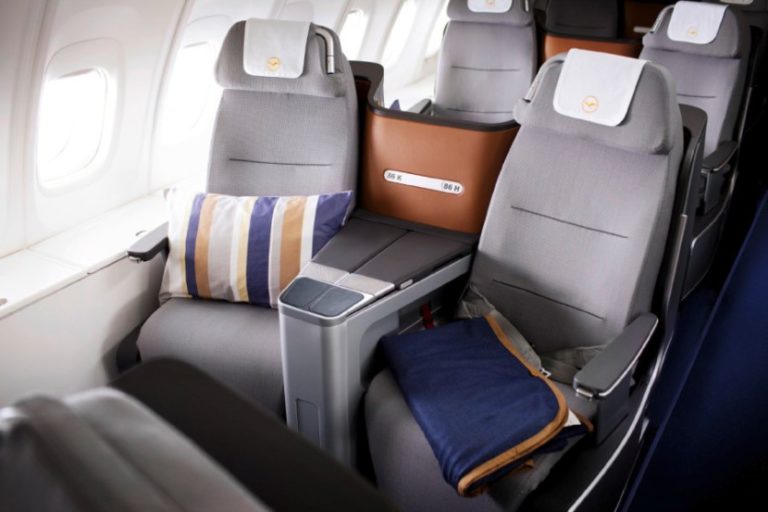 Business class seats are standard seats with additional width and pitch (the distance between one point on a seat and the same point on the seat in front of it).
Short-haul: 18"-34" width and 33"-80" pitch
Long-haul: 18"-34" width and 55-65" pitch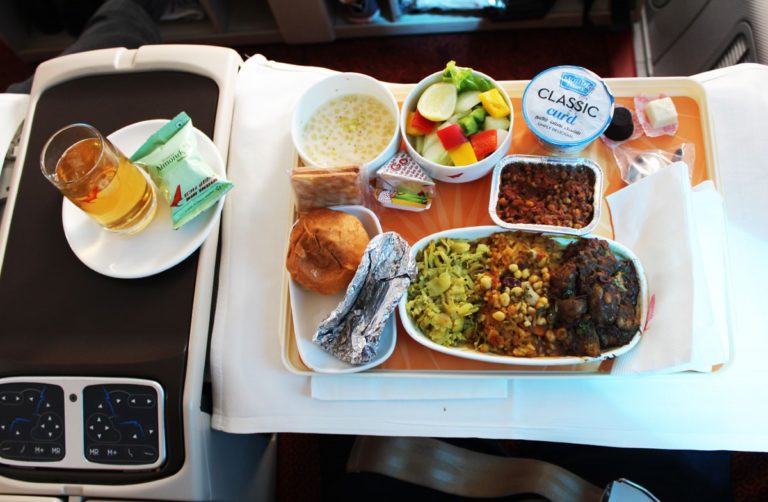 The intercontinental business class dining experience includes three-course lunches and dinners, gourmet in-flight snacks and continental breakfasts. You can choose from a selection of meals that have been prepared with fresh local ingredients. Additionally, you also get to have premium drinks, and coffee when flying business class.
The amenity kits available are usually the same as the first class and include unisex pajama, hand cream, face moisturizer, an eye mask, travel socks, dental kit, and earplugs.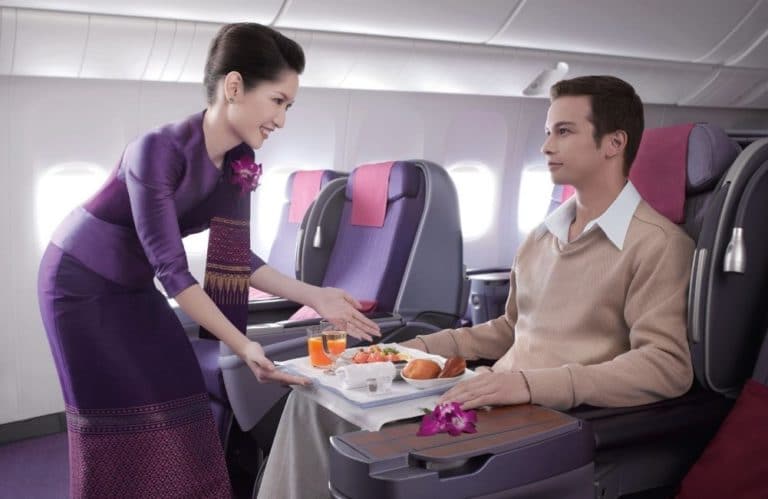 Airlines tend to cater to their business class flyers the best! This is perhaps why there are more flight attendants per passenger in here, which results in better service with more attention being paid to the individual's needs.
Tip: Research your preferred flight before you buy cheap business class tickets, as the cabins can differ greatly between airlines, routes, and planes.
How Much Does it Cost to Fly Business Class?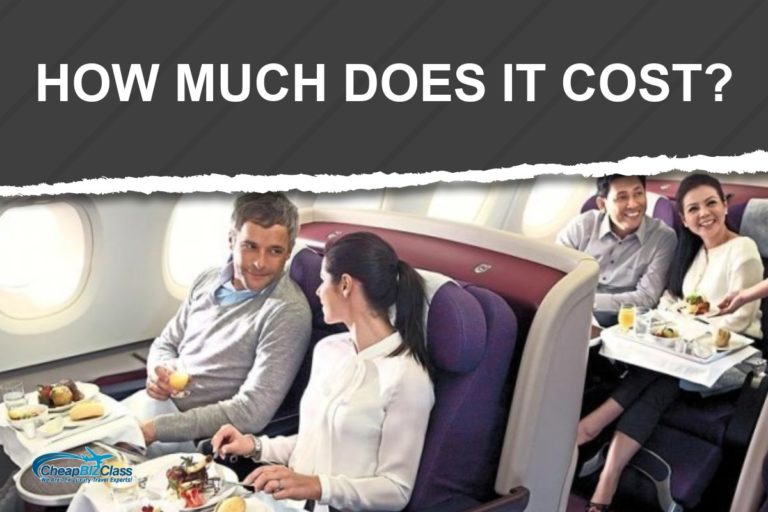 Although the business class experience varies from airline to airline, either way, the whole experience translates to a comfortable flying experience. From having an additional leg room to a tasty meal to a luxury that competes with first-class – business-class experience is definitely worth a try.
So, how much it cost to upgrade to business class seats?
Let's quickly look at some business-class airfares to Europe: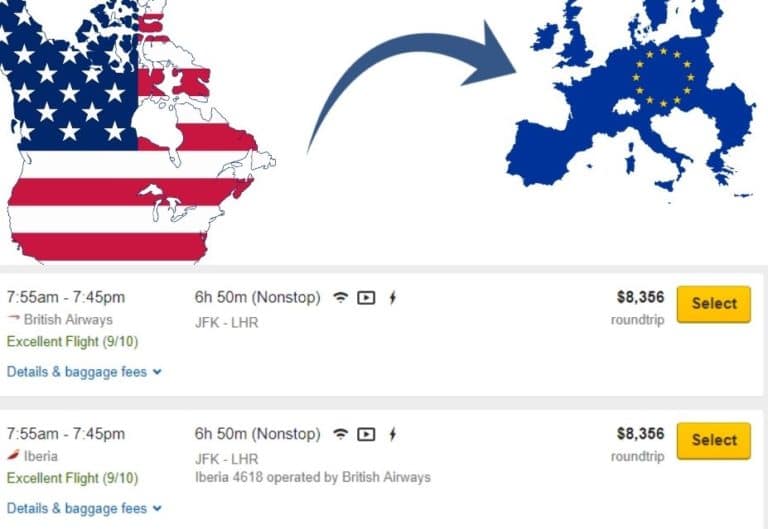 A roundtrip from New York to London in business-class starts from $8,356.
However, the same flight in Standard Economy Class to London amounts to $1089 and back to New York for $1217. Keeping the busiest days of the year in mind, the economy class would still not cross $2,500.

Undoubtedly, there is a huge difference in prices of both the tickets, and as a result, most travelers compromise with their comfort and choose to go for cheaper options.
If this sounds like you, kindly hold on for a second before you book your economy class ticket!
In this article, we will reveal some tried and tested tricks to get cheaper business and first-class tickets. Continue reading to find out.
First-class tickets are nearly two times more expensive than the business-class.
Going on with the comparison, the business-class tickets are almost five times more expensive than the standard economy ones.
As promised, you can manage to bargain business class flights at pocket-friendly rates. Now, as we know how much is the difference between economy and business class let's see how to book cheap business seats!
How to Get Cheap Business Class Tickets?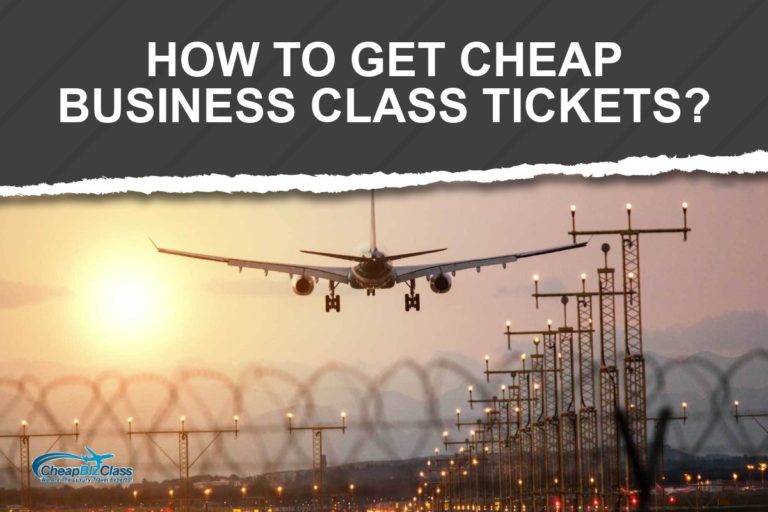 First of all, start the process by researching for the best business class seats. Here is the cheapest way to fly business class:
If you are a frequent traveler, keep track of your miles that have added up and their expiry dates. At some point, you will have enough miles to get a discounted business class flight.
Upgrade your lower fare ticket
You can buy a coach or a premium economy seat and use your extra points from accumulated miles for a business-class upgrade.
Bid for an upgrade in online auctions
Some airlines have online auctions where you can bid for a ticket upgrade using frequent flyer points and cash. Airlines, such as Qantas will send you an email up to 7 days before your travel date to let you know if your flight upgrade was successful.
There are plenty of websites that allow you to buy and sell points. However, be careful as this trick also backfires at times! And, you might end up losing your miles when buying cheap business class tickets, therefore, check beforehand.
If you don't have enough miles to get a free business class upgrade, you can try to upgrade your ticket at check-in.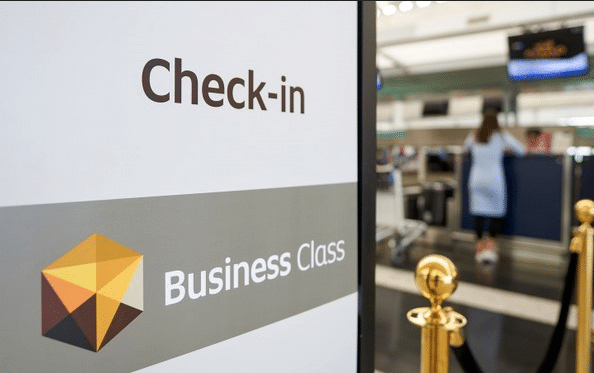 If first-class seats are available, you can get an upgrade at a discounted rate may be. Just try asking politely if there are any upgrades available, and if there are, you might be able to get a first-class upgrade for a domestic flight for as low as $50, or $300 for an international one. This is how you can get the best price for your first or business class flight.
Thus, it is highly recommended to get a co-branded card for your airline. Some airlines, such as United will offer up to 50,000 points upon signing up, which is almost enough to cover the price of a business-class ticket to Europe. When asking for cheap international business class flights, this is the best option.
You can also book with your personal or business card. You can check our guide on 
business vs personal credit cards
 in case you are still hesitating which one to use.
More often than not, almost every business-class consolidators have a lot of "unpublished deals". How about trying your luck a bit and find cheap business class flights?
Simply, reach out to them via call or email and ask them for any related deals. If they have, make sure that they are an accredited business and have years of experience in the travel industry before buying the tickets from them.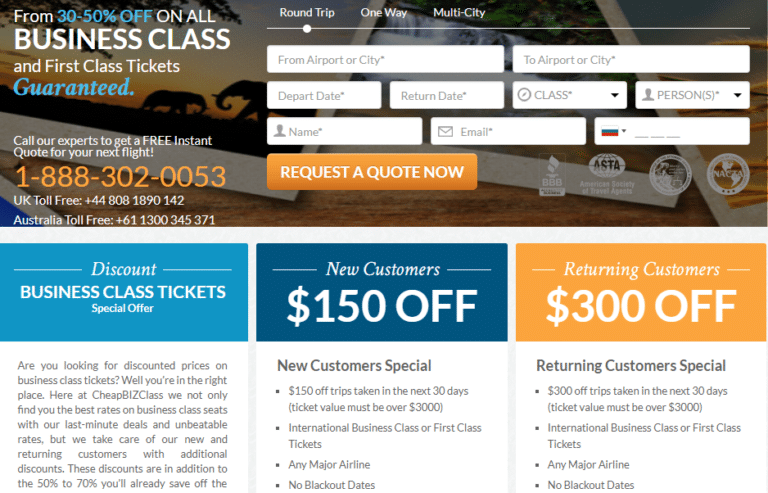 Use Cheap Biz Class travel agentss
Call 1-888-302-0053 and speak with one of our agents 24/7. Our experienced travel insiders will give you exclusive and lowest business class fares at up to 70% discount.
Be flexible with travel dates
Tickets purchased well in advance always turn out to be cheaper than the ones booked at last minute.
Be creative and make combinations
You can fly the short part of your trip in a coach and the long one in business class. It takes a bit of research and planning ahead, but it does pay off well finally.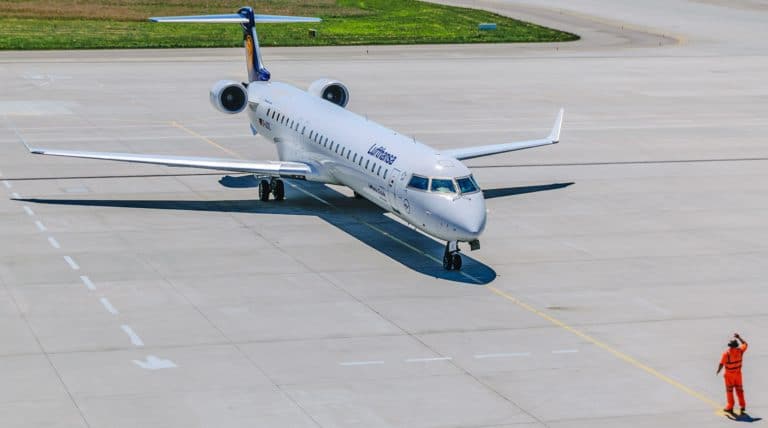 Sign up for alerts from airlines
You can also sign up for the email newsletters of your favorite airline companies and be the first to know about the sale and last-minute business class tickets and discounts.
Monitor air travel forums
Furthermore make sure you sign up for updates from major blogging sites and forums, specialized in air travel. Their bloggers often post lots of genuine and worthy last minute deals and cheap business flights.
If your coach seat is towards the front of the plane, listen for the shutting noise of the cabin door and if there's probably a free first-class seat, ask the flight attendant if you can move.
How to Get Cheap Business Class Flight Upgrade or a Discount?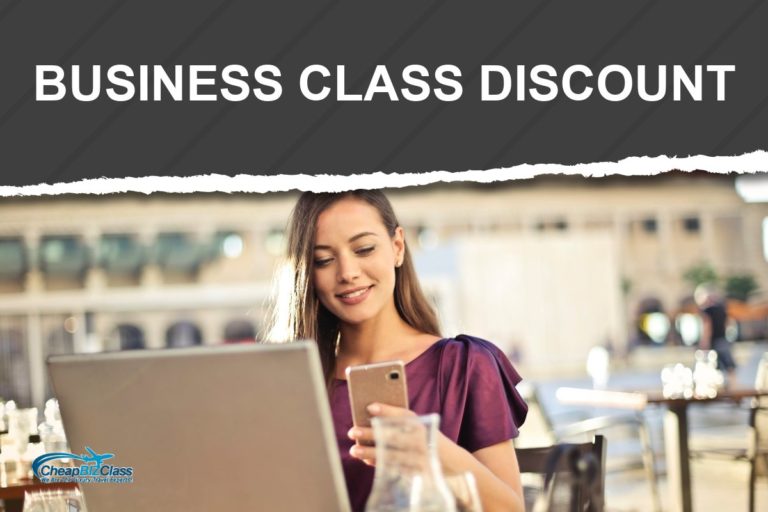 First of all upgrading, your travel class with equivalent points or miles is perhaps the best way to fly business class for cheap! In here, you pay for economy class tickets but travel in business class.
Down below we have listed some of the upgrade options of the major discount business class airlines so make sure you read them carefully.
Air India offers "Upgrade For Sure" for International passengers. Such an upgrade generally costs up to $825 which is lower than the regular business class ticket.
Royal Air Maroc recently launched its Safar Flyer card levels (Blue, Silver or Gold). You can earn miles by traveling in their respective flights. Further, you can also collect premium miles by traveling with their airline partners, such as Iberia and Etihad Airways and fly business class cheap.
Similarly, Icelandair's Business class (named Saga Premium) ticket lets you earn 4800 points every time you fly.
You can earn Finnair Plus points by flying with Finnair which can be used for a wide variety of products and services. For example, you will need 50,000 points for an upgrade form New York to London.
Iberia rewards its customers with discount vouchers for their trips which are applicable to all flight bookings. You can get discount vouchers here.
Air France has Flying Blue program that allows you to book tickets with miles. Passengers can earn up to 8 miles for each Euro spent.
They also offer Discount Passes which cost $660 per year to the USA. This way, you can get up to 35% off on the full-fare for flights operated by Air France and HOP and 10% discount in Business Cabin for medium haul flights from France on Air France flights.
Delta provides its standard business class experience under the name of Delta Comfort plus. Their SkyMiles Credit Card from American Express earns 2 miles per dollar on purchases and 1 mile per eligible dollar spent.
With KLM (likewise Air France) the number of miles you earn depends on the amount of money you spend.
In case you want to learn even more about how to find the best discounts on business class flights, have a look here.
Are There Fake Business Class Tickets?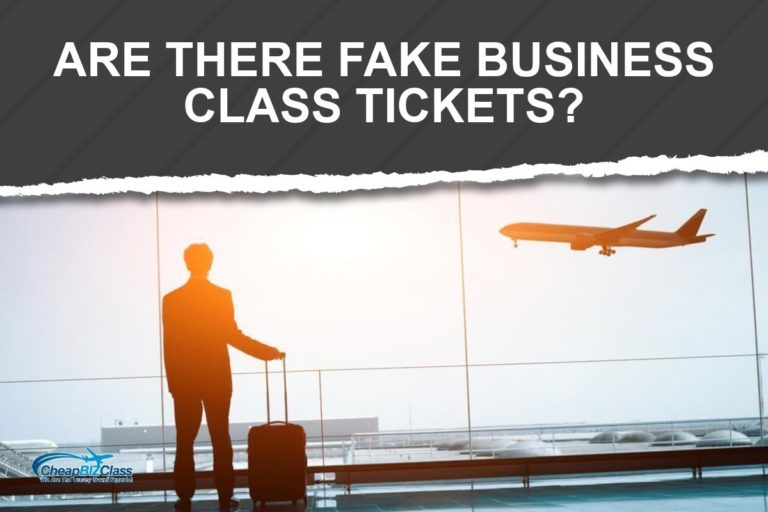 If you get yourself a discounted ticket from an unverified source, the chances are high that your airline will not accept it and may even ban you from flying with them.
Therefore, if you are planning on using the services of a mileage broker, DON'T.
Mileage brokers are individuals or companies who work as mediators between people who sell their frequent flier miles and those who need a cheaper business class ticket.
However, this is against the Terms & Conditions policy of most airlines, and by using these services you may end up losing both your ticket and money.
Imagine that 60 000 points can get you the equivalent of a $9,000 worth business class ticket. A mileage broker will buy those points at a much lower price. They can get them for around $1000, and then sell that same ticket to you for $4000.
It is a win-win situation, as they are making $3000, and you are saving $5000 by buying the ticket from them.
The thing is that Loyalty programs do not look positively on such deals and Airlines are constantly investing in software to detect them.
If the airline finds out that your ticket is bought from a mileage broker, they won't allow you to fly.
Undoubtedly, in some cases, deals that you find online are not to be missed. But how can you make sure that they are real?
Read the next section to find out.
What to Ask When Buying Cheap Business Flights?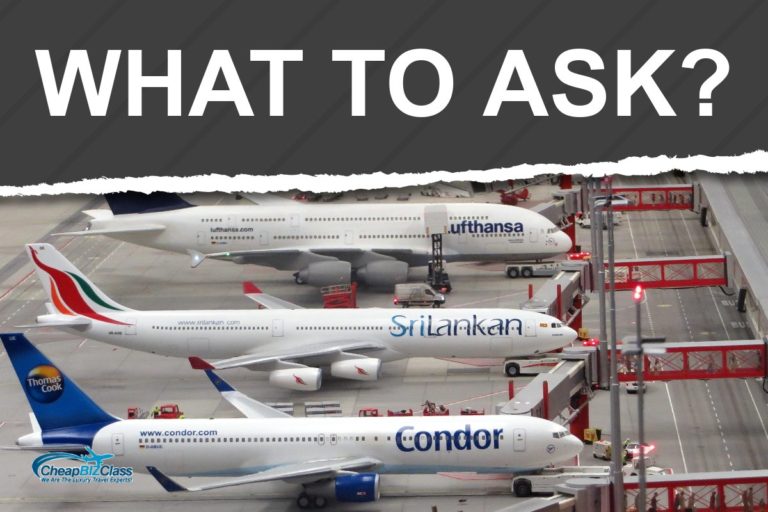 If you are buying a discounted business class ticket from a business and first-class consolidator, make sure you ask for their credentials, as there are a lot of individuals and companies that may try to lure you into buying cheap tickets, which can turn out to be fake.
To save yourself from an embarrassing experience at the airport, make sure you:
Ask the travel agent for any accreditations that they might have in order to ensure that you are buying a cheap business class ticket from a verified source. Do not get blinded by the huge discount and do your research beforehand.
Enquire what all included in your airfare and whether there will be any additional charges and for what. You can ask for the available discount on business class airfares too.
Check if your fee is refundable
See if you will be getting a full refund if you change or cancel your flight and how soon can you do that without getting any charges imposed.
Check if you will earn any frequent flyer miles
Not all flights will earn you points, so it is best to ask your travel agent or check Google's ITA Matrix to see if the flight you've booked will bring you some points.
Is It OK To Buy A Business Class Ticket With 70% Discount?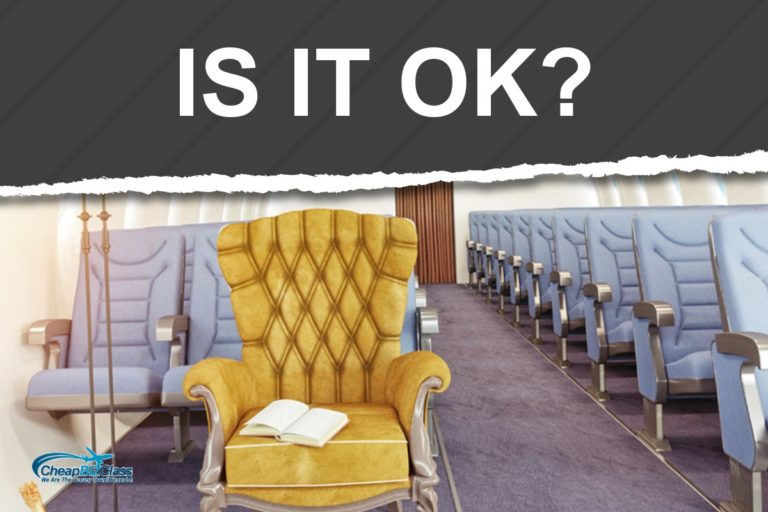 Cheap Biz Class
 offers a huge discount on business and first-class tickets. 
With us
, you can easily find deals that are 
nearly 70% cheaper
 than the retail price. Further, our seamless customer support will stay connected with you throughout the booking process.
So, yes it is entirely okay to buy business class tickets at a 70% discount. After all, who doesn't want to save money?
We all know that flying is cheaper than it used to be. That is why the passengers are searching for the lowest business class fares. You can start flying business class cheaper by reducing your Carry-On Fees.
See what the business class traveler, Kristin Wong, advises while looking for cheap business class tickets: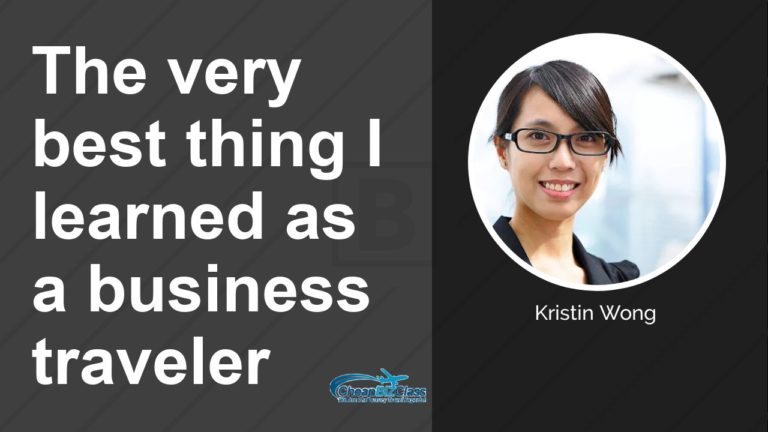 "The very best thing I learned as a business traveler who spent a week at a time in various locations was to simply send all of my "stuff" ahead of time to the hotel via UPS three day and have them, hold it for me until I checked in. For the return of the "luggage," I simply included another UPS three-day return label I printed ahead of time in the box and slapped it on and asked the hotel to have it picked up by UPS to ship back to me. Simple and CHEAP compared to baggage fees and the hotel had no problems holding it for me with my reservation or having it picked up for return."
Are Cheap Business Tickets Entitled to all the Benefits?
Yes
. When it gets to business class deals, you need to know that cheap tickets are the same as the ordinary ones and the only difference is the provider. As already mentioned, travel agencies are in touch with airlines which enable them to provide 
massive discounts
.
Sometimes, various airlines provide cheap business class tickets for promotional purposes. This enables companies to reach new clients by offering discounts and last-minute deals.
Is the Customer Service the same as for the Regular Business Class Tickets?
o one on board knows the exact price you have paid for your ticket. Don't worry, the carrier is happy to have you on board even if you have paid half of the price for your ticket and you will certainly be able to take advantage of the exceptional customer service that comes with your cheap business class ticket.
First Time Business Class Traveler? How to Act When Flying First or Business Class?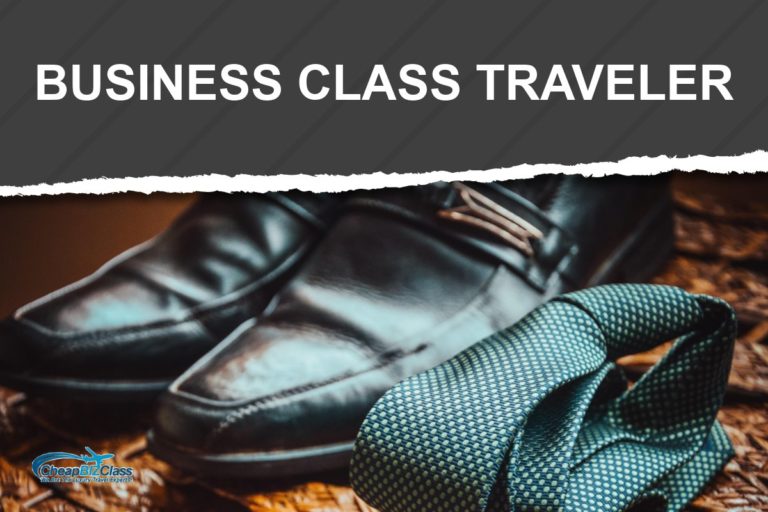 If you're already convinced and plan to travel first or business class for the first time – there are three things you need to consider:
Reach the airport earlier. With the priority check-in, priority boarding, and priority security screening included, you will have the chance to enjoy the pre-flight amenities in the sophisticated lounges that are available only for first and business class travelers. Not only do they include gourmet meals and drinks, but there is also a spa center that treats you luxuriously.
There is no dress code for business class – you can see passengers in skirts, jeans, and T-shirts. However, think long term. What if you get an opportunity to meet new people or make new friends? How about finding a potential business partner? Is jeans still your best shot?
If you need help, just ask
If you're flying business class for the first time, all those buttons could freak you out. There are a lot of people who spend their entire journey on board trying to convert their seat into a bed, instead of asking for help.
Thus, avoid that – ask the flight-attendant – you are paying "tons" of money, and the assistance is also included.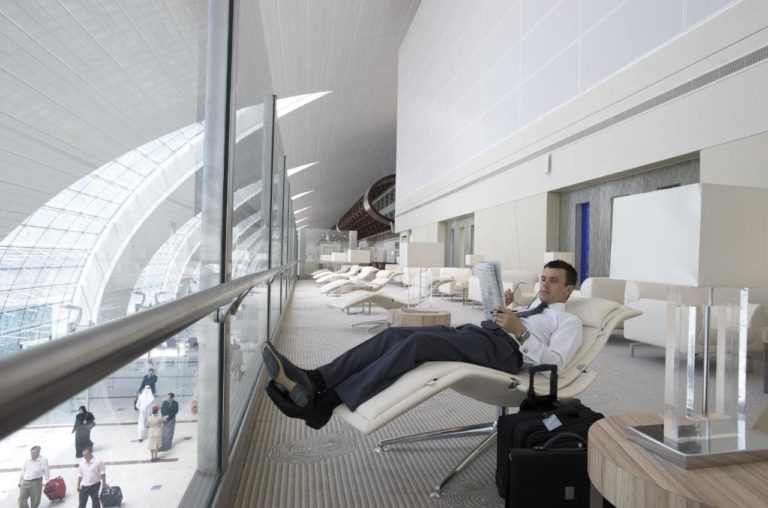 Congratulations, now you know how get cheap business class tickets. Thus, flying business class is all about comfort. There are various ways through which you can book cheaper business class flights. You can use your miles, or ask the airline for an upgrade, or alternatively, contact a travel agency. However, to be on a safer side, make sure that you double check the provider before you book.
If searching for the best business class deals and checking the consolidators is a bit overwhelming for you, and if you want to save some time, simply visit 
Cheap Biz Class
 to get the best deals.
On top of that, our customer support team would help you out 24/7 in booking a business class ticket at the lowest prices!
Talk with us to have the best business class deals!
Talk with us to have the best business class deals!
Got any queries? Write to us in the comments below!

GIVE OUR TRAVEL INSIDERS A CALL TODAY
Call 365 days, 24/7, Toll-Free
UK Toll Free: +44 808 1890 142
Australia Toll Free: +61 1300 345 371

SEARCH FOR OUR BEST ESTIMATED QUOTE OR CALL FOR TODAY'S LOWEST PRICE.