When you're traveling regularly for business, it's not only essential to be well-prepared for a conference or meeting with a client, but also that you get there on time. A missed flight costs you and your client valuable time and can compound stress.
One thing you can control is choosing the best business carry-on luggage that safely stores your business essentials, allows you to cross airports easily, and has you looking smart and professional doing it.
Don't waste your time paying for baggage fees and waiting around at the baggage claim with your fingers crossed. Finding the best carry-on suitcase for business travel will help take any unnecessary hassle out of your journey.
So how do you choose a carry-on bag that meets your needs? Here are our tips on how to choose the best carry-on luggage for business travel in 2020.
What are the Most Common Types of Carry-On Bags for Business Travelers?
Two main types of carry-on bags exist for today's savvy business traveler. Depending on your style and needs, the smart choice is either a backpack or a rolling suitcase.
What is the best carry-on luggage for business travelers? This comes down to personal choice because not all carry-on luggage is created equal.
Let's look at the different types of bags to determine what will work best for you.
Backpacks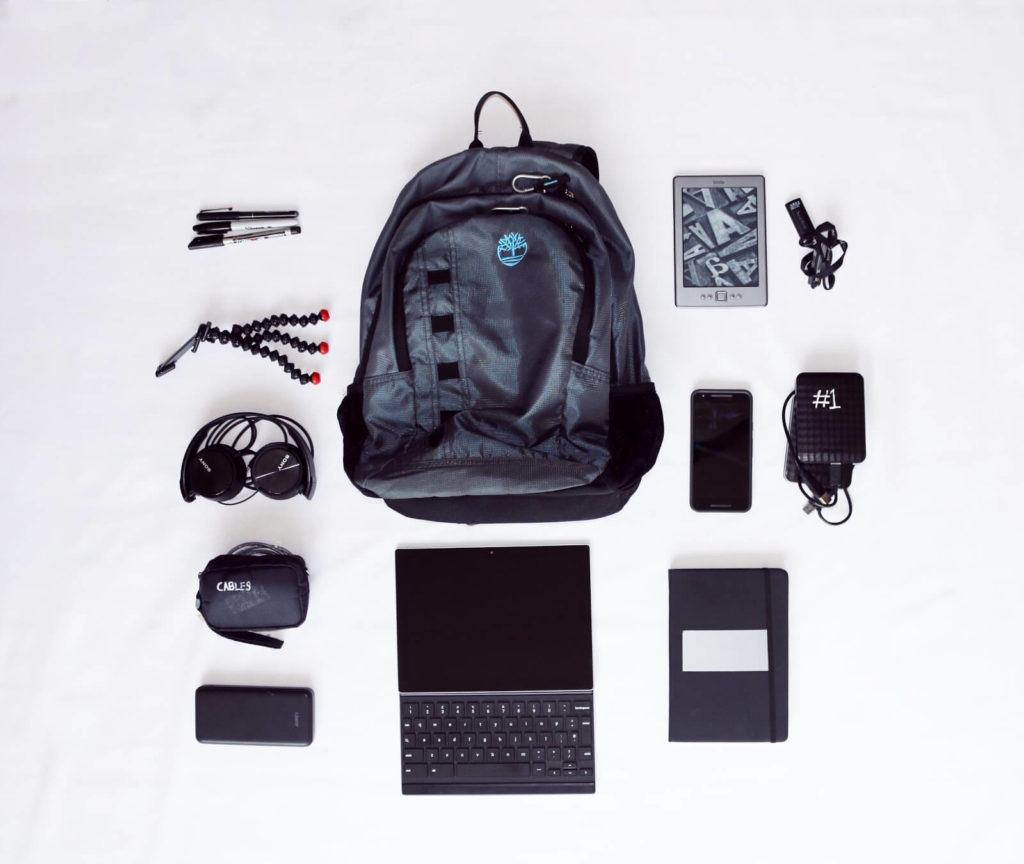 Backpacks are no longer just for school kids or college students. These versatile and stylish carry-alls offer many hidden compartments and pockets which are perfect for storing the travel accessories of business travelers. Backpacks are flexible enough to fit into the overhead compartment or under the seat in front. However, they can become heavy and cumbersome as you need to carry them at all times.
Rolling Suitcases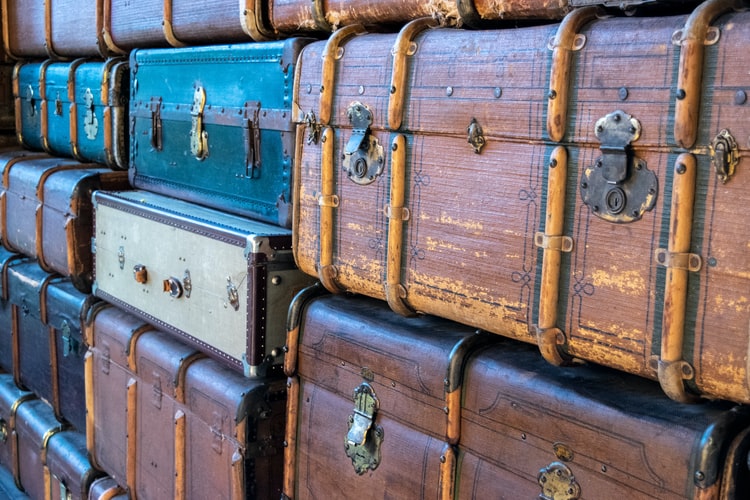 Frequent flyers owe a debt of gratitude to whoever revolutionized travel by adding wheels to the traditional suitcase. Business luggage is now easier than ever to transport and comes in two styles: hard side and soft side. This carry-on luggage is perfect for travelers who regularly fly on business and first-class flights.
Hard side suitcases are crafted from durable materials like polypropylene and polycarbonate. Soft-sided suitcases can be made out of fabrics like leather, PVC, nylon, or polyester. They are usually expandable, adding an extra 25% room for bulky accessories or last-minute additions.
Choose from 2-wheel or 4-wheel carry-on business luggage, with or without built-in smart technology.
Rolling Suitcases
Pros
More resistant to wear and tear
Provide more give in the fabric if you need to squeeze that little bit extra in
Expandable
Extra external pockets
2 or 4 wheels
Cons
Can absorb water making them susceptible to stains and smells
Hard Side Luggage
Pros
More protective of what's inside
Most hardshell luggage has 4 wheels for added maneuverability
Cons
The firm edges can make it a little challenging to fit into the overhead compartment
No external pockets mean it's not as easy as the soft side bags to access your items
Prone to damage by rough handling
TIP !
If you're taking a laptop with you, ensure it's well protected when you travel. Your carry on bag should allow for easy access to your laptop for airport security checks. Taking an extra laptop bag may be possible., but you'll need to cjeck with the airline's restrictions on the number of carry-on items allowed.
2 Wheels or 4 Wheels?
2 Wheels (Rollaboards)
Pros
Practical and affordable. Pull it behind you, or push it in front of you
Slightly shorter than the 4-wheeled bags making them a little easier to fit into the overhead compartment
Nylon carry-on bags can weigh less than 5 pounds and tend to have more built-in pockets
Cons
You can trip up fellow travelers who are walking behind you
Pulling a bag behind you puts a little more stress on your joints
TIP !
Make sure your check the retractable handles. From pushing, pullung and carrying luggage, they can take quite a beating. You want to make sure they are tough enough to wishstand the journey and that it retracts easily in order to stow in the overhead bin.
Smart Luggage
Thanks to the latest in technological advances, smart luggage is a game-changer when it comes to business travel. No more searching for USB charging stations in the departure lounge, these suitcases help you stay connected on your business trips.
Pros
Includes power banks to charge your devices
TSA-approved locks to keep your belongings safe from theft
GPS tracking and electronic baggage tags allow you to locate lost luggage
Cons
The lithium-ion batteries included in these cases are not allowed in the cargo hold. You can only take bags with uninstalled batteries on board.
What is the Best carry-on Luggage For Business Travelers?
We've taken the recommendations of frequent business travelers just like you, and also our traveling experience, to put down a list of the best business carry-on luggage. There are carry-on luggages for all budgets and of all sizes.
Swiss Gear Laptop Backpack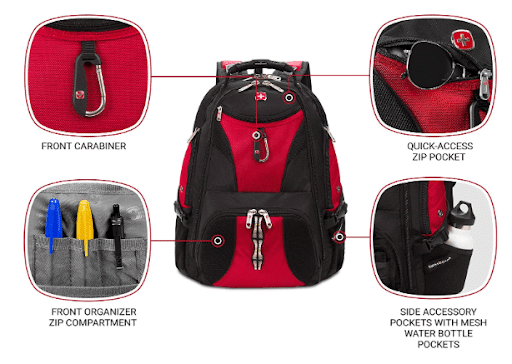 Swissgear has pulled out all the stops in this extra-roomy, full-featured laptop bag with breathable Airflow ventilation technology. This backpack easily falls into the best carry-on suitcase for business travelers who love backpacks but don't want to spend a lot of money.
The padded contour shaped mesh shoulder straps have built-in suspension to reduce strain on your back and shoulders. The ScanSmart lay-flat technology allows you to breeze through airport security checks. At the same time, the heavy-duty molded top handles provide on-the-go comfort.
Features:
Weight – 3.3 lbs
Volume – 31 liters
A dedicated pocket for your laptop
An organizer compartment
Various sized internal and external accessory pockets
An accordion file holder
Water bottle pockets
A media pocket, including and a headphone cord port
Standard's Carry-on Backpack
Standard's top-of-the-line 45L backpack wins as the best luggage for business travel in the backpack arena.
No more waiting at the baggage claim for an oversized bag. The cabin approved 3-in-1 backpack also conveniently converts into a suitcase or shoulder bag. Its ergonomic design contains padded back ventilation for a cooler carry. The hideaway straps, roll-aboard strap, and detachable hip-belt provide different options for you to transport your bag.
Standard's carry-on-sized travel backpack has a dedicated laptop sleeve and pockets for accessories. It also includes lockable zips, a safety whistle, a rain cover, and a water bottle pocket. What more could you ask for in a carry on luggage for your next business trip?
Features:
Weight – 3.7 lbs
Expandable capacity – 35 – 45 liters
A 3-in-1 backpack that also converts into a suitcase, backpack or shoulder bag
Ergonomic design with 6-points of adjustability
Durable and water-resistant
Practically designed pockets to keep all your stuff organized
Full perimeter zip and compression straps
Dakine Carry-On Roller Bag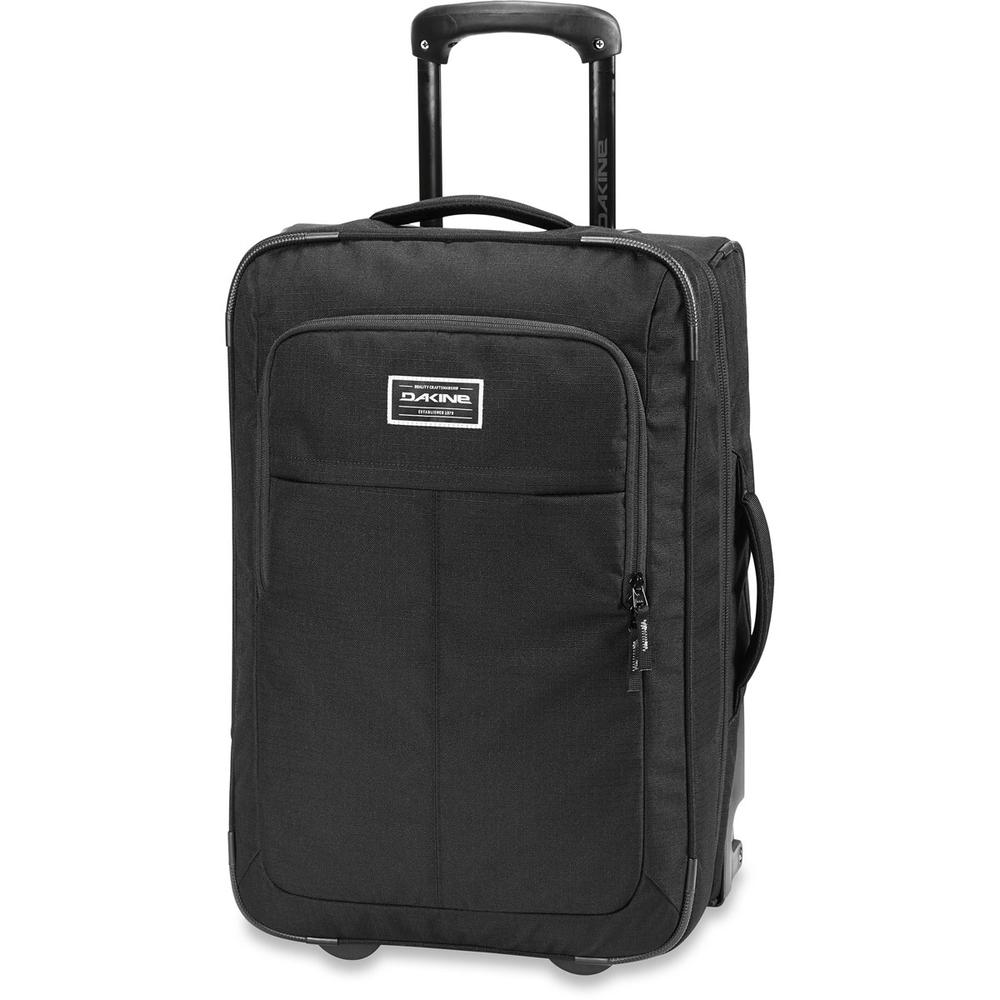 If you're after a basic but functional rollaboard that looks professional without the high price tag, Dakine's carry-on 2-wheel roller is for you. Best suited for domestic travel, the durable polyester material is reinforced with hard plastic guidelines to keep your belongings protected.
Twin 3-inch urethane wheels allow you to navigate many types of terrain. Store easily in the overhead compartment while keeping your mobile office within reach thanks to the dedicated and easily-accessible laptop compartment.
Features:
Weight – 6.5 lbs (2.9kg)
42 liters of space
Durable polyester material reinforced with hard plastic guidelines
Twin 3-inch urethane wheels to withstand many types of terrain
Internal compression straps
Dedicated laptop pocket
Dakine Carry-On Roller Bag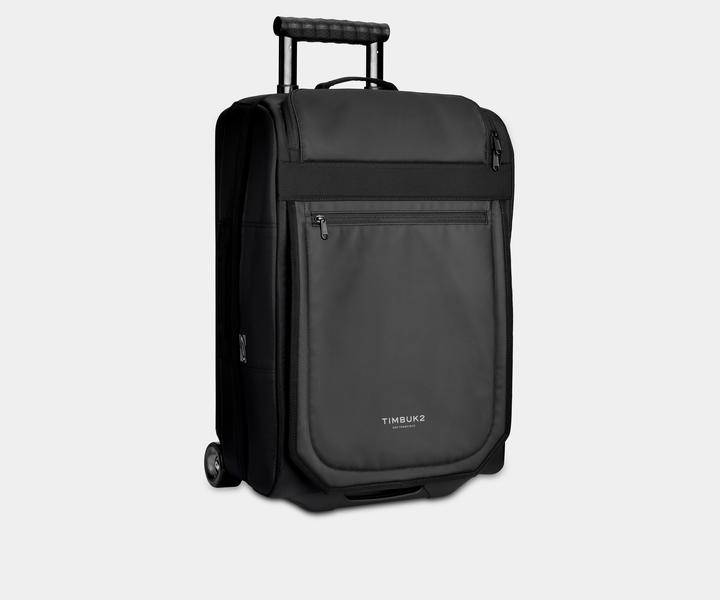 Timbuk2's rollaboard finds itself as the best business carry-on luggage on two wheels, making it a popular choice for globetrotters all around the world. This expandable carry-on with easy-to-access compartments will amaze you how much can fit in this ultra-lightweight bag while still meeting the onboard carry-on requirements.
The clamshell design allows for easy packing and repacking. The expandable top compartments enable you to quarantine things (such as shoes or laundry) as needed. Two internal zippered compartments mean your belongings stay where they're meant to.
The bike inspired handle, and removable skateboard style wheels ensure a smooth glide over almost any terrain. The grab straps are reinforced to withstand heavy-handed treatment, and unlike many suitcases on the market – it comes with a lifetime warranty.
Features:
Ultra-lightweight – 7.6 lb (3.4kg)
Volume – 42.00 liters
Very practical internal organization
Removeable skateboard wheels
Reinforced grab straps
Internal mesh divider
Lifetime warranty
Dakine Carry-On Roller Bag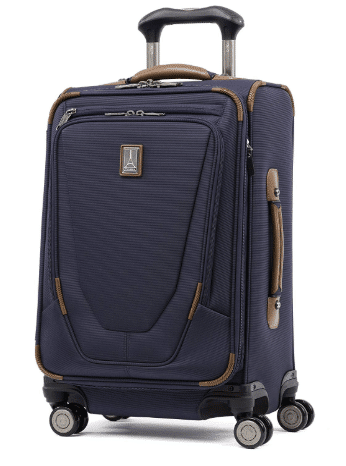 Travel like professional flight crew with Travelpro's expandable 4-wheel spinner carry-on. The best suitcase for business travelers in the soft side spinner category, this versatile carry-on is equipped with a garment bag and pockets for all your essentials. It also contains a power bank pocket with an external USB port to provide a dedicated holder for your charger, so your phone or tablet remains charged.
The internal Deluxe Suiter keeps your clothes organized and wrinkle-free during travel.
The patented PrecisionGlide™ System combines 3 features for personalized comfort, control, and effortless roll. The heavy-duty, scratch, water and stain-resistant material mean your carry-on suitcase can handle everything you throw at it.
Features:
Weight – 7.2 lbs
Volume – 46 liters
Equipped with a garment bag and pockets for essentials
360° dual spinner wheels
Power bank pocket with an external USB port
Scratch, water and stain-resistant
Top and side carry handles
NINETYGO Lightweight TSA Compliant carry-on Suitcase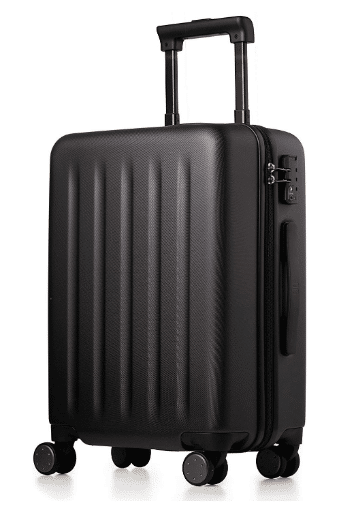 Ninetygo's spinner carry-on suitcase is built for durability and style on a budget. Its ultra-rigid protective shell is scratch-resistant thanks to the honeycomb grid outer layer. The triple-layered 100% Makrolon Polycarbonate design protects your valuable items from any rough handling.
The zippered compartments and pockets provide a comfortable and efficient organization of your clothes and accessories.
Enjoy a smooth glide with the whisper-quiet, 360° spinner wheels, and an adjustable 4-level push handle to raise or lower to a height that's comfortable for you.
Features:
Weight – 9.75 lbs
Volume – 33 liters
Sturdy and scratch-resistant
4-wheel spinner wheels with 360° rotation
100% Makrolon polycarbonate
4-level telescoping push-button handle
Chester Minima Carry-On Luggage
Simple. Stylish. Functional. Chester's carry-on is the best luggage for business travel if you're looking for a hard side spinner. Crafted from 100% polycarbonate, making it impact-resistant to withstand rough handling and lightweight so you can pack more in. Inside are 2 zippered compartments, 3 interior organizers, and a removable laundry bag.
The 360° spinner wheels and 100% aluminum telescoping ergonomic handle provide a smooth and effortless stroll over almost any surface. This spinner carry-on will have you traversing airports and planes quickly and in style.
Features:
Weight – 7.0 lbs
Volume – 38 liters
Impact-resistant and lightweight
100% polycarbonate
2 compartments, 3 interior organizers, and removable laundry bag.
360° spinner wheels and ergonomic handle
GoPenguin carry-on Smart Luggage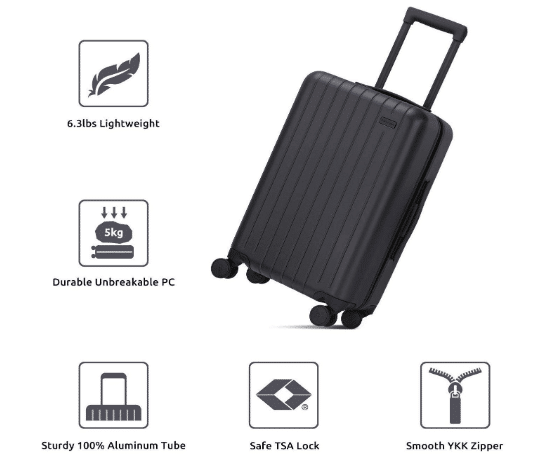 When you're looking for a smart suitcase on a budget, GoPenguin has the best luggage for business travel. The unbreakable, lightweight polycarbonate hard shell is supported by 4 premium 360° resilient and silent spinner wheels.
You are no more opening your suitcase to have your belongings spill out due to unsupportive and flimsy straps. The zippered, mess-free compartments allow you to organize your items and have them stay put easily.
The ergonomically designed, aviation-grade telescope handle is sturdy enough to withstand pulling, pushing, and dragging. It can also be adjusted to suit your height.
Features:
Weight – 6.3 lbs
Volume – 39.8 liters
Unbreakable lightweight polycarbonate hard shell
4 premium 360° durable and resilient spinner wheels
Ergonomically designed handle
Horizn Studios M5 Cabin Luggage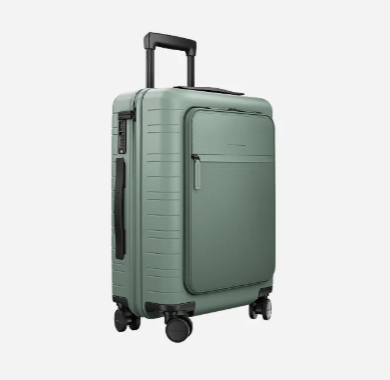 So what is the best carry-on luggage for business travelers? Horizn Studios brings us the best suitcase for your business trips, hands down. The premium aerospace-grade polycarbonate hardshell is water-resistant and contains an easily accessible compartment for your laptop and travel essentials. An internal compression pad keeps your belongings in place, and your business attire wrinkle-free.
Horizn's carry-on with high-quality 360° spinner wheels also contains an international flight compliant removable 10,000 mAh smart charger with a lightning USB cable to keep your devices charged at all times.
Features:
Weight – 7.9 lbs
Volume – 33 liters
Premium aerospace-grade polycarbonate hardshell
The best carry on luggage with a laptop compartment that is easily accessible and water-resistant
High-quality 360° spinner wheels
One year access to your own personal travel agent
International flight compliant removable smart charger
Take Your New Carry-On For a Test Drive
Are you confident you can pack your suitcase to accommodate your clothing, accessories and gadgets? Check out these tips for how to pack like a pro:https://www.youtube.com/embed/B-ZliLpJhs0?controls=1&rel=0&playsinline=0&modestbranding=0&autoplay=0&enablejsapi=1&origin=https%3A%2F%2Fnew-cheapbizclass.flywheelsites.com&widgetid=1
Now what? Once you've decided on the best carry-on suitcase for business travel that suits your needs and style, it's essential to evaluate your carry-on before your next trip. You want to eliminate any potential issues that may arise while you're in transit before you leave home.
Fill your new carry-on to the brim and wheel it around on different surfaces to get a feel for how it handles.
Raise it above your head to test how easy it would be to lift into the overhead compartment.
Check out the pockets and test any special features to make sure they work and accommodate your accessories.
Conclusion
Traveling for business can be a stress-filled occasion. From long check-in and security lines to delayed flights, it can be an event you may not look forward to. When your mind is occupied with work, the last thing you want to worry about is your carry-on luggage.
Luckily, that is something you have control over. By purchasing the best business carry-on luggage that suits your needs, you'll have a reliable travel companion for years to come.
Imagine cruising through the airport from a seamless check-in process right through to arriving hassle-free at your destination. You'll wonder why it took you so long to begin your search for the best carry-on suitcase for business travel.
Test out your new carry-on suitcase after you book your discounted business-class and first-class tickets at CheapBIZClass.com.
Our tips on how to choose the best carry-on luggage for business travel in 2020 will help you take the stress out of each trip so you can get on with the job at hand.